Leica Flexline Manual Total Stations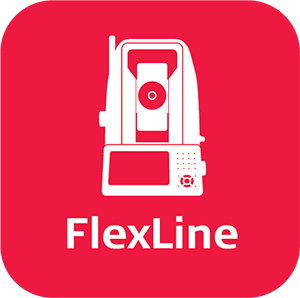 The new Leica FlexLine TS03, TS07 and TS10 high-quality, manual total stations are based on a proven product concept that has been revolutionising the world of measurement and survey for nearly 200 years. The easy-to-use and familiar Leica FlexField software (TS03/TS07) helps you to easily and efficiently carry out surveying and stakeout tasks. The FlexLine TS10 is equipped with Leica Captivate field software, enabling you to tie into the modern 3D dataflow – including enhanced linework and coding. The new Leica FlexLine manual total stations work reliably and deliver accurate results even in harsh environments.

Leica FlexLine TS03/TS07/TS10 Manual Total Stations
Work faster: measure more points per day due to faster measurement and stakeout procedures (new endless drives, trigger key, drives on both sides and more), supported by our easy-to-use and familiar Leica Geosystems software.
Use it trouble-free: increase productivity and minimise downtime by relying on instruments that simply work and come with a global service and support network.
Choose products that are built to last: even after years of use under harsh conditions (like mud, dust, blowing rain, extreme heat and cold), FlexLine total stations still operate with the same high level of accuracy and reliability.
Save time with AutoHeight: this revolutionary feature enables the manual total stations to automatically measure, read and set your instrument's height. This way errors are minimised and the setup process onsite is faster.
Control your investment: reliability, speed and durability ensure a lower investment over the product lifetime.
Downloads
Leica FlexLine Series Datasheet
Leica FlexLine TS03/TS07 Datasheet
Leica FlexLine TS10 Datasheet
Leica TS03/TS07/TS10 Equipment List
Leica FlexLine TS03/TS07/TS10

Leica FlexLine TS03

Leica FlexLine TS07

Leica FlexLine TS10
ANGULAR MEASUREMENT
Accuracy Hz and V
Absolute, continuous, diametrical1
2'' / 3'' / 5''
1'' / 2'' / 3'' / 5'' / 7"
1'' / 2'' / 3'' / 5''"

Display resolution: 0.1'' (0.1 mgon)
Quadruple axis compensation
Compensator setting accuracy2: 0.5'' / 1''/ 1.5'' / 2''
Compensator range: +/- 3.78' (+/- 0.07gon)
Electronic level resolution: 2"
Circular level sensitivity: 6` / 2mm

DISTANCE MEASUREMENT
Range

Prism (GPR1, GPH1P): 1.5m to 3.500m
Prism GPR1 (Long Range mode) > 10.000m

Non-Prism / Any surface
R500
R1000
Accuracy / Measurement time
Single prism

Precise+ / Once: 1mm + 1.5ppm (typical 2.4s)
Precise&Fast / Once&Fast: 2mm + 1.5ppm (typical 2s)
Tracking / Continously: 3mm + 1.5ppm (typical < 0.15s)
Averaging: 1mm + 1.5ppm
Long Range mode / > 4km: 5mm + 2ppm (typical 2.5s)

Non-Prism / Any surface

0 m - 500m: 2mm + 2ppm (typical 3-6s)
> 500m: 4mm + 2ppm (typical 3-6s)

Laser dot size

At 30m: 7mm x 10mm
At 50m: 8mm x 20mm
At 100m: 16mm x 25mm

Telescope

Magnification: 30x
Resolving power: 3"
Focusing range: 1.55m / 5.08ft to infinity
Field of view: 1°30' / 1.66gon / 2.7m at 100m

GENERAL
Display and keyboard
3.5" (inch), 320 x 240 px QVGA, grayscale, 28 keys5a
3.5" (inch), 320 x 240 px QVGA, colour, touch, 28 keys5b
5" (inch), 800 x 480 pixels WVGA, colour, touch, 25 keys5b, (optional5c: 37 keys with function keys)
2nd keyboard
Key illumination
Operation

Endless drives for HZ & V
Trigger-Key: user definable with 2 functions

Power management
Exchangeable Lithium-Ion battery
Operating time with GEB361
up to 30h
up to 30h
up to 18h
Operating time with GEB331
up to 15h
up to 15h
hup to 9h
Battery charging time with
GKL341 charger for GEB361 / GEB331
3h 30min / 3h
3h 30min / 3h
3h 30min / 3h
GKL311 charger for GEB361 / GEB331
6h 30min / 3h 30min
6h 30min / 3h 30min
6h 30min / 3h 30min
Data storage

Internal memory: 2GB Flash
Memory card: SD card 1GB or 8GB
USB memory stick: 1GB

Processor

TI OMAP4430 1GHz Dual-core ARM® Cortex™ A9 MPCore™
Operating system – Windows EC7

Interfaces
RS2327, USB device
Bluetooth®8, WLAN9
Mobile Data sidecover: LTE-Modem for internet access
Guide Light (EGL)

Working range: 5m to 150m
Position accuracy: 5cm at 100m
Wavelength red /orange: 617nm / 593nm


(R1000)

(R1000)
Laser plummet
(Laserclass 2)
Accuracy

Plumb line deviation: 1.5mm at 1.5m instrument height
Diameter of laser point: 2.5mm at 1.5m instrument height

AutoHeight module for automatic instrument height measurement (Laserclass 2)
Accuracy

Distance accuracy: 1.0mm @ 1m
Distance range: 0.7m to 2.7m

Weight
4.3kg
4.3 - 4.5kg
4.4 - 4.9kg
Environmental specifications
Working temperature range: –20°C to +50°C
Arctic version: –35°C to +50°C
Dust / Water (IEC 60529) / Humidity: IP66 / 95%, non-condensing
Military Standard 810G, Method 506.5