Survey Equipment Hire
SCCS has one of the most comprehensive fleet of surveying equipment and accessories for hire in the UK. We have a full range of the most technologically advanced hardware and software equipment and solutions for positioning, measuring, scanning and monitoring.
To support our rental business, we provide an unrivalled technical and logistical support team to ensure you get the correct equipment where and when you need it. Just as importantly we are there throughout the hire to support you through our dedicated technical support and logistical support teams.
Hire is a cost-effective way to make use of an instrument in certain circumstances, saving on the cost of purchase and the ongoing servicing and calibration requirements. We are able to support our customers with exclusive rates for long term hires and volume orders.
Why choose Hire?
Cost effective - pay for equipment only when you need it
Control project costs and improve cashflow
Access to the latest technology
Cover periods of peak demand
Full technical support and advice
No calibration, service or storage costs
No depreciating costs of owned equipment
Try before you buy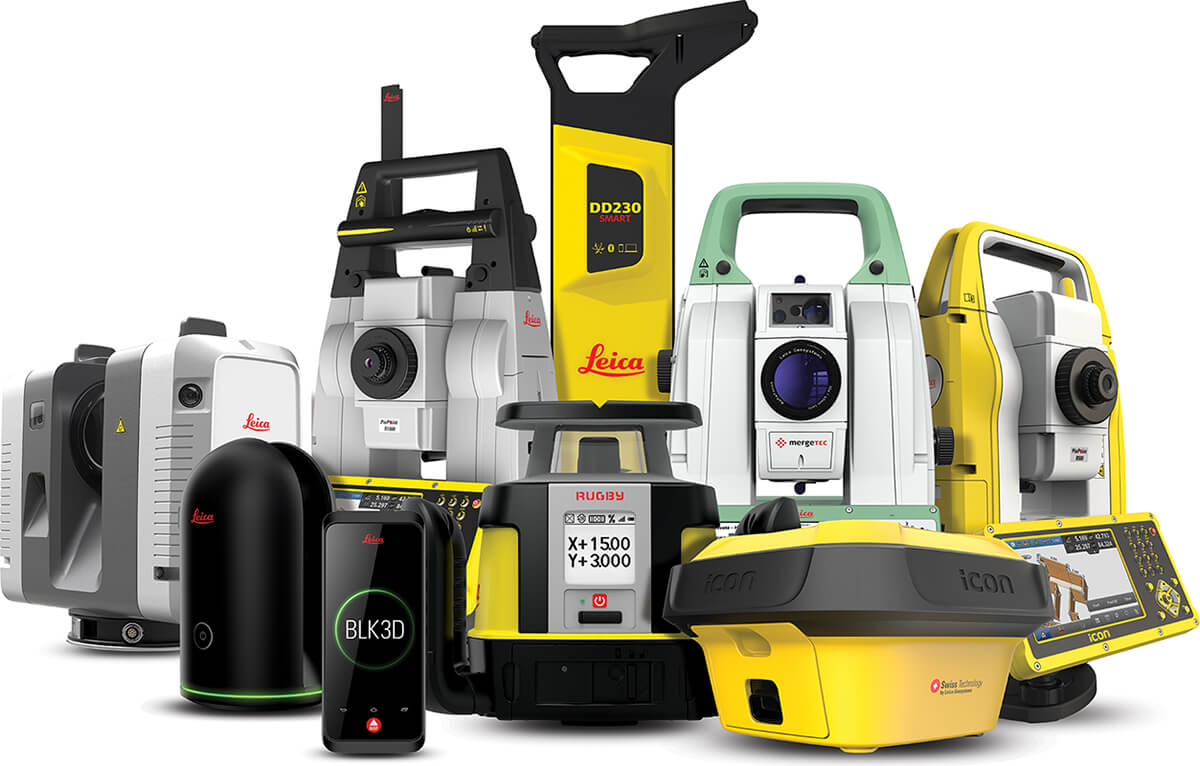 Why choose SCCS?
The most comprehensive fleet of survey equipment for hire in the UK
Experienced field staff and technical support engineers
Authorised Distribution and Service Partner for Leica Geosystems
Exclusive UK distributor of Amberg Technologies
Providing complete service and support to construction, engineering, archaeology and forensic professionals
UKAS calibration, servicing and repairs by certified technicians
Fleet of vans to deliver direct to sites up and down the UK
Next day delivery throughout the UK, same day delivery when possible.
Nationwide coverage
Competitive rates for both long and short term hires
Professional, friendly and well-organised service
"SCCS continue to provide excellent service and support to Buckingham Group Contracting Ltd. and I am delighted to extend our fleet management agreement."
Colin Sudds, Head of Geomatics at Buckingham Group Contracting Ltd
Get in touch
Head Office
SCCS, Alpha House, Alpha Drive, Eaton Socon, St Neots, Cambs PE19 8JJ
Office Hours:
Monday - Friday 8.30am - 5.30pm.
Telephone
Hire: 01480 402269
Accounts: 01480 402270
General Enquiries: 01480 404888
Email:
Hire: hires.geo@sccssurvey.co.uk
Tech Support: techsupport@sccssurvey.co.uk
Our extensive range of surveying kit includes Rotating & Pipe Lasers, Digital & Automatic Levels, Total Stations, GNSS & GPS Systems, Machine Control, HDS Scanners, Rail & Tunnelling Solutions and Monitoring Systems. We also provide Environmental Measuring, Marking & Setting Out Tools and much more. We also provide detection and safety apparatus including Utility Avoidance, Gas Detection, Inspection Cameras, Height and Rescue and more.
We have a dedicated team of drivers who can deliver kit nationwide on a next day basis.
Leica NA720 Automatic Level
c/w tripod and staff

£16.50 per week

Leica Sprinter 250M Digital Level
c/w battery pack, charger, bar code staff and tripod

£50.00 per week

Leica LS15 0.3mm Digital Level
c/w batteries, charger, 2m invar or barcode staff, tripod and accessories

£85.00 per week

LumiScale Digital Aluminium Staff, 2m
c/w charger

£27.50 per week

Leica Piper 100/200 Pipe Laser
c/w batteries, charger, feet and targets

£37.50 per week

Leica Rugby Rotating Laser
c/w rod eye detector, battery pack, tripod and staff

£27.50 per week

Leica Rugby Single Grade Laser
c/w rod eye detector, battery pack, tripod and staff

£45.00 per week

Leica Rugby Dual Grade Laser
c/w rod eye detector, battery pack, tripod and staff

£55.00 per week
Leica Rugby 640 Interior Laser
c/w rod eye detector, battery pack, tripod and staff

£37.50 per week

GeoFennel FLP-100 Laser Zenith Plummet
c/w battery pack, charger, target plate, and tripod

£70.00 per week

Leica JC100 Plumbing Laser
c/w battery pack, charger, remote, target plate, and tripod

£70.00 per week

Leica Precise Automatic Level
c/w tripod and staff

£27.50 per week
Leica GMP3 Parallel Plate Micrometer
£20.00 per week

Leica Rod Eye Detector
c/w staff

£5.50 per week

Leica MC200 Depthmaster
c/w clamps or magnetic bracket

£40.00 per week
Invar Staff, 2m
£15.00 per week
Leica D1 Disto
£25.00 per week
Leica D110 Disto
£25.00 per week
Leica D2 Disto
£25.00 per week
Leica D5 Disto
£25.00 per week
Leica D510 Disto
£25.00 per week
Leica D810 Disto
£105.00 per week

Leica Disto S910
c/w stand, target plate, charger, TRI70 tripod, and accessories

£25.00 per week
Leica X3 Disto
£25.00 per week
Leica X310 Disto
£25.00 per week
Leica Lino L2P5 Laser
c/w accessories

£25.00 per week

Leica Lino ML180 Laser
c/w accessories

£40.00 per week

Leica Lino ML90 Laser
c/w accessories

£25.00 per week

Leica Lino L2 Laser
c/w accessories

£30.00 per week

Leica Lino L360 Laser
c/w accessories

£40.00 per week

Leica Lino L4P1 Laser
c/w accessories

£25.00 per week

Leica Lino L6G-1 Laser
c/w Battery, charger, target plate, clamp adapter, wall mount and case

£15.00 per week

Leica Lino L2G+ Green Beam Laser
c/w accessories

£25.00 per week
1x TO2 Digital Electronic Theodolite
c/w batteries, charger, tripod and accessories

£35.00 per week

Leica TS06+ 5" Flexline Total Station
c/w mini prism set, batteries, charger, and tripod

£95.00 per week

Leica TS07 5" Flexline Total Station
c/w mini prism set, batteries, charger, and tripod

£95.00 per week

Leica TS07 1" Flexline Total Station
c/w mini prism set, batteries, charger, and tripod

£105.00 per week

Leica TS09+ 5" Flexline Total Station
c/w mini prism set, batteries, charger, and tripod

£110.00 per week

Leica TS09+ 1" Flexline Total Station
c/w mini prism set, batteries, charger, and tripod

£120.00 per week

Leica TS10 1" Flexline Total Station
c/w mini prism set, batteries, charger, and tripod

£120.00 per week

Leica TS11 5" Total Station
c/w mini prism set, batteries, charger, tripod, and accessories

£120.00 per week

Leica TS11 1" Total Station
c/w mini prism set, batteries, charger, tripod, and accessories

£140.00 per week

Leica TS12 5" Robotic Total Station Total Station
c/w CS15 controller, 360° prism, detail pole, mini prism set, batteries, charger, tripod, and accessories

£205.00 per week

Leica TS13 5" Robotic Total Station
c/w CS20 controller, 360° prism, detail pole, mini prism set, batteries, charger, tripod, and accessories

£205.00 per week

Leica TS13 3" Robotic Total Station
c/w CS20 controller, 360° prism, detail pole, mini prism set, batteries, charger, tripod, and accessories

£220.00 per week

Leica TS13 1" Robotic Total Station
c/w CS20 controller, 360° prism, detail pole, mini prism set, batteries, charger, tripod, and accessories

£230.00 per week
Leica TS15 5" Robotic Total Station
c/w CS15 controller, 360° prism, detail pole, mini prism set, batteries, charger, tripod, and accessories

£245.00 per week

Leica TS16 5" Robotic Total Station
c/w CS20 controller, 360° prism, detail pole, mini prism set, batteries, charger, tripod, and accessories

£245.00 per week

Leica TS16 1" Robotic Total Station
c/w CS20 controller, 360° prism, detail pole, mini prism set, batteries, charger, tripod, and accessories

£265.00 per week

Leica TS60i 0.5" R1000 Total Station
c/w CS20 controller, 360° prism, detail pole, mini prism set, batteries, charger, tripod, and accessories

£320.00 per week

Leica MS60 1" R2000 Total Station
c/w CS20 controller, 360° prism, detail pole, mini prism set, batteries, charger, tripod, and accessories

£480.00 per week

Leica TM50 1" Total Station
c/w mini prism set, batteries, charger and tripod

£280.00 per week

Leica iCON iCR65 5" Robotic Total Station
c/w CC80 tablet, 360° prism, detail pole, batteries, charger, tripod, and accessories

£195.00 per week

Leica iCON iCR70 5" Total Station
c/w CC80 tablet, 360° prism, detail pole, batteries, charger, tripod, and accessories

£195.00 per week

Leica iCON iCR70 1" Total Station
c/w CC80 tablet, 360° prism, detail pole, batteries, charger, tripod, and accessories

£215.00 per week

Leica iCON iCR80 5" Total Station
c/w CC80 tablet, 360° prism, detail pole, batteries, charger, tripod, and accessories

£215.00 per week

Leica iCON iCR80 1" Total Stationc/w CC80 tablet, 360° prism, detail pole, batteries, charger, tripod, and accessories

£245.00 per week
Leica Traverse Kit
c/w 2x circular prisms, carriers, tribrachs and tripods

£27.50 per week

Leica Half Traverse Kit
c/w 2x circular prisms, carrier, tribrach, tripod and detail pole

£17.50 per week

Precise Traverse Kit
c/w 2no GDF321 Tribrach, 2no GZR3 Carrier with Optical Plummet, 2no GPR121 Circular Prism with Holder and 2no GST20 Wooden Tripod

£27.50 per week

Leica CS20 Controller Kit
c/w 360 prism, detail pole, batteries and accessories

£55.00 per week

Leica CS35 Tablet Kit
c/w 360 prism, detail pole, battery and accessories

£70.00 per week
Leica GRZ4 360° Prism
£10.00 per week
Leica MPR122 360° Prism
£10.00 per week

Leica GRZ101 Mini 360° Prism
c/w mini point, poles and bubble

£10.00 per week

Leica GFZ3 Diagonal Eyepiece
c/w counterweight

£10.00 per week
GLS14 Mini Pole with Bubble
£10.00 per week
22-MBS Mini Bipod
£10.00 per week
Tripod Star
£10.00 per week

Column Clamp
c/w ratchet and strap

£10.00 per week

Leica GMP111-0 Mini Prism Set
c/w poles and point

£10.00 per week
Radiodetection RD8100 Cable Locator
£70.00 per week
Radiodetection RD8000 Cable Locator
£70.00 per week

Radiodetection TX Transmitter
c/w direct cable, download cable, earth cable and earth pin

£30.00 per week
Radiodetection eCAT4+ Cable Locator
£25.00 per week

Radiodetection Genny 4 Transmitter
c/w direct cable and earth pin

£25.00 per week
EZiCAT Service Locator
£25.00 per week

EZiTEX Transmitter
c/w direct cable and earth pin

£25.00 per week
EZiROD (30/50/80m)
£40.00 per week

Leica DD230 Smart Locator
c/w battery and charger

£25.00 per week

Leica DS2000 Utility Detection Radar
c/w toughpad and accessories

£400.00 per week

Leica DSX Utility Detection System
c/w toughpad and accessories

£400.00 per week

Leica Stream C Advanced Ground GPR Kit
c/w toughpad and accessories

£1500.00 per week
£600.00 per day
IDS C-Thrue Rebar Detector
£395.00 per week
GRED Software Dongle
£250.00 per week
Amberg Rail GRP 1000

POA

Amberg Rail GRP 3000

POA

Amberg Rail GRP 5000

POA

Amberg Rail IMS 1000

POA

Amberg Rail IMS 3000

POA

Amberg Rail IMS 5000

POA

Abtus RouteScan
c/w PDA, charger and accessories

£275.00 per week

Abtus ABT4640 Height & Stagger Gauge
c/w disto and accessories

£220.00 per week

LaserSweep
c/w charger and accessories

£275.00 per week

Rail Shoe
c/w 1m extension pole

£10.00 per week
Rail Wheel
£55.00 per week
Bance Track Gauge
£40.00 per week
Bance Platform Gauge
£70.00 per week
Robel Platform Clearance Gauge
£85.00 per week

Geismar Amber Trolley
c/w PDA and accessories

£440.00 per week
Drain Inspection Camera (20m or 40m)
£65.00 per week
Hand Shear Vane
£40.00 per week
Digital Floor Hygrometer
£15.00 per week

MEXE Cone Penetrometer
c/w accessories

£105.00 per week
Two-Way Digital Radio
£10.00 per week

Vibrock V9000 Seismograph
c/w accessories

£225.00 per week
Sauter TD 225-0 1US Ultrasonic Thickness Gauge
£55.00 per week
Casella 63x Sound Meter
£150.00 per week
Geo Fennel FSM130+ Sound Meter
£30.00 per week
Casella Micro-Dust Pro Monitor
£50.00 per week
MSA Altair 4XR Gas Monitor
£50.00 per week
Protimeter MMS2 Moisture Meter
£35.00 per week

Lightweight Deflectometer
c/w printer and accessories

£120.00 per week
GeoFennel FVE150 Borescope
£15.00 per week

SECA Cavity Inspection Camera
c/w SD card, charger and accessories

£60.00 per week
Clegg Hammer Soil Tester
£105.00 per week
FLIR Thermal Imaging Camera
£95.00 per week
Schmidt Hammer
£30.00 per week
Bosch D-tect 150 SV Wallscanner
£30.00 per week
Suparule 600
£30.00 per week
Dipmeter, 50m
£40.00 per week

Digital PRO Inclinometer & Tablet
c/w accessories

£230.00 per week
iCON CR30S Robust Radio
£30.00 per week
Hilti Ferroscan PS1000 Scanner
c/w monitor and accessories

£335.00 per week

Hilti Ferroscan PS200 Scanner
c/w monitor and accessories

£330.00 per week
Kolectric Cover Meter
£40.00 per week

Elcometer 331 H/HM
c/w half-cell meter and accessories

£60.00 per week

Elcometer 331 B/BH/SH/TH/THD
c/w standard search head and accessories

£70.00 per week

Elcometer 456
c/w foil

£50.00 per week