Leica Disto Laser Measurers
Leica DISTO Laser Measure is the innovative laser measure range from Leica Geosystems. The Leica DISTO™ range is ideal for quick, easy and precise measurements of distances such as length and volumes with the press of a button, even in inaccessible places. The DISTO family will save valuable money and time as well as improve the accuracy of measurement on site.
If you are looking for a laser measure that is highly accurate, has good range and high build quality then you will be sure to find the right device in the DISTO.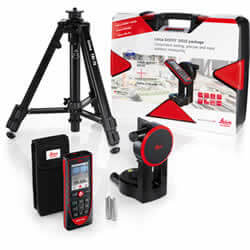 Leica Disto D510 Pro Kit
Leica DISTO™ D510
Leica Tripod Adapter FTA360
Leica TRI70 Tripod
Rugged Case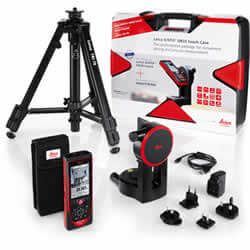 Leica Disto D810 Pro Kit
Leica DISTO™ D810 touch
Leica Tripod Adapter FTA360
Leica TRI70 Tripod
Rugged Case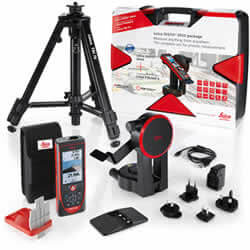 Leica Disto S910 Pro Kit
Leica DISTO™ S910
Leica Tripod Adapter FTA360-S
Leica TRI70 Tripod
Leica GZM3 target plate
Rugged Case
Since the initial launch of the first hand-held laser distance measure, Leica Geosystems have developed the DISTO™ providing efficient features and tools for practical everyday use.
Measuring out of corner slots or from edges, the multifunctional end-piece included on models Disto D210, Disto X310 and the Disto D3a BT, makes all measuring situations easy. The automatic end-piece detection gives confidence to avoid costly measuring errors.
An integrated tilt sensor is not only for determining angles but can also be used to measure height tracking.
The digital Pointfinder with 4 × zoom which can be found on the Disto D510 and gives considerable precision in adverse light conditions, especially when working in brilliant sunshine. The target is shown on the 2.4" high-resolution colour display. This display works in the same way as a camera and even features a zoom function. The measurement can still be recorded precisely even if the laser dot cannot be seen with the naked eye.
The Leica DISTO D510 includes the integral Bluetooth® Smart Technologyso your measurements are able to be transferred to other devices such as a PC. The free Leica DISTO™ app sketch can create tables or ground plans using an iPhone, iPad or iPad mini. Photographs can have dimensions added which in turn produces great visuals making it one of the best Leica DISTO Laser Measurers.
Leica Disto Comparison Information
D110

D2

D210

X310

D410

D510

D810

S910

Primarily for Indoor Use

Suitable for Indoor and Outdoor

Distance Measurement

up to 60m

up to 60m

up to 80m

up to 80m

up to 150m

up to 200m

up to 200m

up to 300m

Area Measurement

✓

✓

✓

✓

✓

✓

✓

✓

Triangle Room Angle Function

✓

✓

✓

✓

Trapezium Measurement

✓

✓

✓

✓

Tilt Measurement

360º

360º

360º

360º

Smart Horizontal Mode

✓

✓

✓

✓

✓

Height Tracking

✓

✓

✓

✓

✓

Height Profile Measurement

✓

✓

✓

✓

Multifunctional Endpiece

Manual

Auto

Auto

Auto

Auto

Auto

Auto

Bluetooth

Bluetooth Smart

Bluetooth Smart

Bluetooth Smart

Bluetooth Smart

Protection class

IP54

IP54

IP65

IP54

IP65

IP54

IP54