Description
Take a picture. Measure anything.
The BLK3D captures images and places precise measurements at your fingertips. Share images and measurements in multiple formats.
The art of photogrammetry. Simplified.
Un-matched combination of a calibrated stereo-camera, advanced algorithms and real-time edge computing fused with leading Electronic Distance Measurement (EDM) technology.
Access projects. Anywhere, anytime.
Measure in your image – on the handheld imager, on the desktop, on-site or in the office.
Working with digital floorplans.
Create floorplans and import existing ones. Add measurable images. Document construction progress with multiple images over time.
New dimensions for 2D pictures.
The BLK3D creates images that contain precise three-dimensional measurements.
Progressive project documentation for AEC.
Capture critical moments throughout the life of a building.
Object detection and snapping.
Auto-Snapping uses computer vision technologies to select the right points for your measurements.
Store. Organize. Share.
Store your measurable images on the device and on desktop. Organize your projects by tagging measurable images with searchable keywords for easy recall and share them in multiple formats.
BLK3D ACCURACY
The BLK3D represents a new way to capture and document reality by combining measurement sensors, software, and on-device data processing. Its integrated stereo-camera captures images that provide a complete 3D record, with:
EDM accuracy of 1mm*
2D in-picture accuracy of +/- 3mm*
3D in-picture accuracy of +/- 6mm*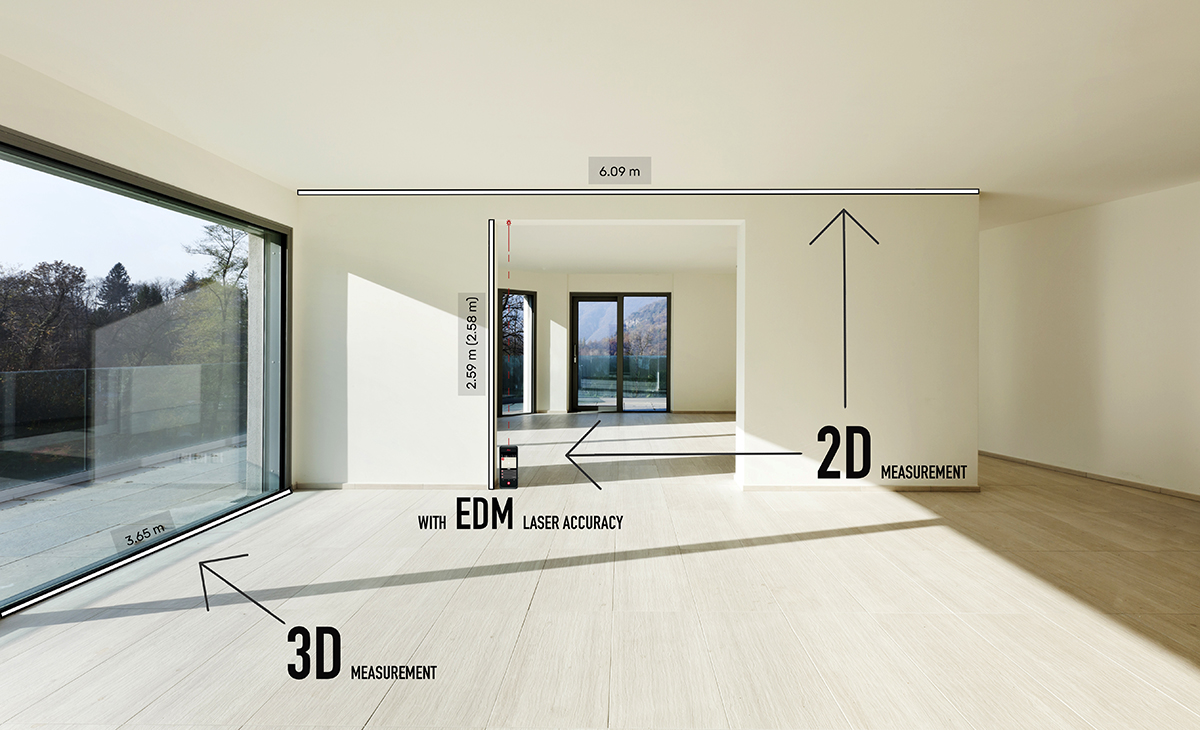 *Measurement precision, accuracy, and reliability are dependent upon various factors including distance and position to object, baseline length, texture of object, light conditions, ambient temperature, calibration etc. Figures quoted assume normal to favourable conditions at close range and are subject to change.
BLK3D Product Specifications
Design & Physical Dimensions
Material
Black anodized aluminium
Dimensions
180mm x 77mm x 27mm
Weight
480g
Connector
USB-C
Display
5'' HD IPS Capacitive Touch Display
P2P Support
Quick Mount on Leica DST 360
Power
Battery Type
Swappable, rechargeable Li-Ion battery
Capacity
14 Wh
Charging
via USB-C connector or external charger
Environmental
Robustness
Designed for any construction site
Operating Temperature
-10°- +50°C
Imaging
Camera
2 x 10MP with 80°Field of View
Algorithms
Advanced SGM algorithmic on-board (GPU) + EDM
Structure from Motion (SFM) algorithmic for poses and orientation
Operating System & Processors
Operating System
Android 7 (Nougat) with GMS certification
CPU
Qualcomm Snapdragon 820E (Quad Core @ 2.35 GHz)
Storage
64GB
RAM
4GB
Communication
WLAN (5GHz), Bluetooth 4.1 and 2.1
Performance
Measurement Speed
<1 sec
Range
up to 20m (imaging); 250m (Electronic Laser Distance Measurement)
Additional Information
| | |
| --- | --- |
| SKU | 5053005 |
| Package Includes | N/A |