The Essential Guide to Leica Disto Laser Measurers

Leica DISTO Laser Measure is the innovative laser measure range from Leica Geosystems. The Leica DISTO™ range is ideal for quick, easy and precise measurements of distances such as length and volumes with the press of a button, even in inaccessible places. The DISTO family will save valuable money and time as well as improve the accuracy of measurement on site. If you are looking for a laser measure that is highly accurate, has good range and high build quality then you will be sure to find the right device in the DISTO.
Which Leica Disto is best for me?
With so many useful measuring functions it can be difficult to find the best Leica DISTO™ for your needs. This extended essential guide will help visualise some of the unique ways a laser distance measurer can reduce measuring time and lets you see what functions are included with the various DISTO models. To learn more about laser distance measuring from basic functionality to more advanced techniques visit our Video Tutorials and Overviews page here.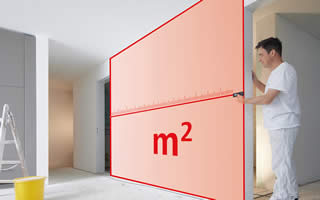 Leica Disto Laser Measurers are ideal for:
Architects
Estimators
Contractors
Painters and Decorators
Fitters
Builders
Joiners
Electricians
Plumbers
Surveyors
Estate Agents
and more.

Some of the very flexible functions of the Leica DISTO™

Minimum/maximum measurements
S910
D810
D510
D410
X310
D210
D2
The maximum measurement is very helpful, e.g. for finding out the room diagonal. The minimum measurement can be used to measure at right angles to a wall.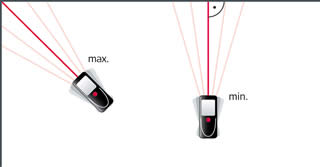 Area and volume measurements
S910
D810
D510
D410
X310
D210
D2
D110 (area)
With only two or three measurements, you can quickly and precisely calculate the area of a ceiling, floor or wall, or the volume of a room. No need to note down the individual values! The result is calculated automatically and shown on the display.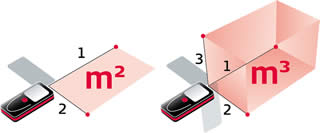 Triangle and room angle function
The triangle function helps you to calculate, quickly and efficiently, the area of a multicornered room. Divide the room into imaginary triangles. Using only three measurements, determine the area of each triangle, which you can add up cumulatively. Pressing a key gives you a detailed display of the room angle, so that you can e.g. quickly check whether it is a right angle.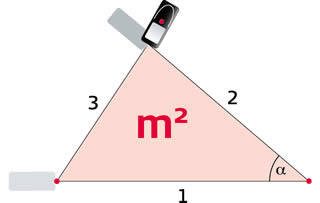 Painter Function
S910
D810
D510
D410
X310
D210
With this function you can determine e.g. the total wall area of a room without having to note down any intermediate results. Simply measure the lengths of the walls, which you can add or subtract as required. Finally measure the room height, which is then automatically multiplied by the previously calculated value.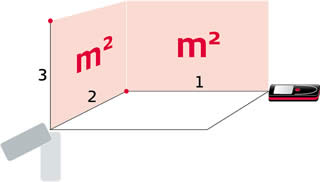 Trapezium Function
The Trapezium Function is useful for determining the length and slope of a roof section, and the area it covers. The DISTO uses the its internal tilt sensor to calculate the angle and the distance between the shots, which means you can measure roofs accurately from the ground.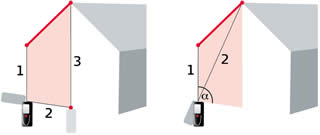 Pythagoras Function
S910
D810
D510
D410
X310
D210
D2
Using the tripod, you can measure distances indirectly, horizontally and vertically. The Leica DISTO™ calculates the result automatically for you from three measurements. Functions such as automatic minimum and maximum measurements help you to measure the right point. Partial heights, e.g. balcony or window heights, are determined by Pythagoras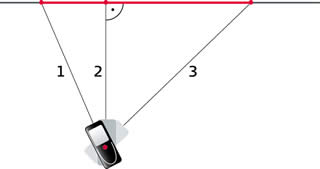 Tilt measurement
S910
D810
D510
D410*
X310
The tilt sensors in the Leica DISTO™s can measure inclinations up to ±45°, or even have a measurement range of 360°. This means you can also measure inclinations over your head. This is particularly interesting for people who wish to determine roof slopes.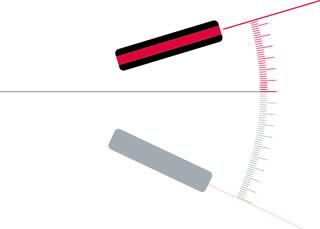 Smart Horizontal Mode
The desired horizontal distance is determined using the tilt measurement, even if the object cannot be directly targeted horizontally. This function is very helpful, e.g. if walls, hedges or people are between the instrument and the target.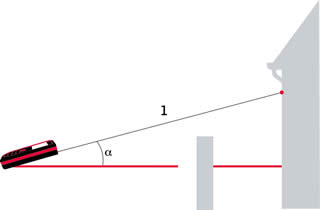 Height Tracking
You can determine the heights of buildings or trees that have no suitable reflective points by using the height tracking function. Target with the Pointfinder on the bottom point of the height to be measured and take a measurement. Then target on the top point of the object. The display then shows the height.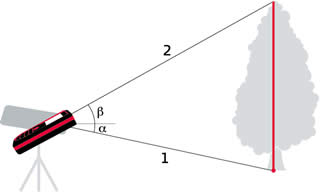 Height profile measurements
Target the device on a known reference mark and then measure the height differences of other points relative to this. If the measured points are taken all in one direction the profile of the ground can be determined from the measured horizontal distances and the height differences.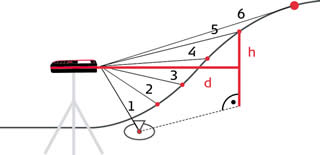 Stake-out function
S910
D810
D510
D410
X310
D210
D2
One or two different distances (a and b) can be entered into the device and then used to subtract from defined measured lengths. The display always shows the current stake-out distance and a direction arrow. At a distance of 0.1m to the next stake-out point, an acoustic signal sounds.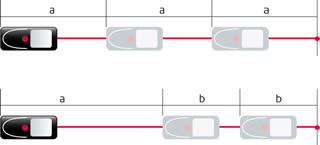 Sloped object measurement
With this function, you can e.g. determine the roof slope of a house, even from a long distance away. To do this you take two distance measurements and the Leica DISTO™ determines the tilt at the same time. Additional detailed information, e.g. the distances and the inclination between the measured points, is also provided.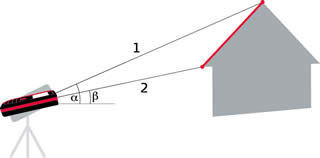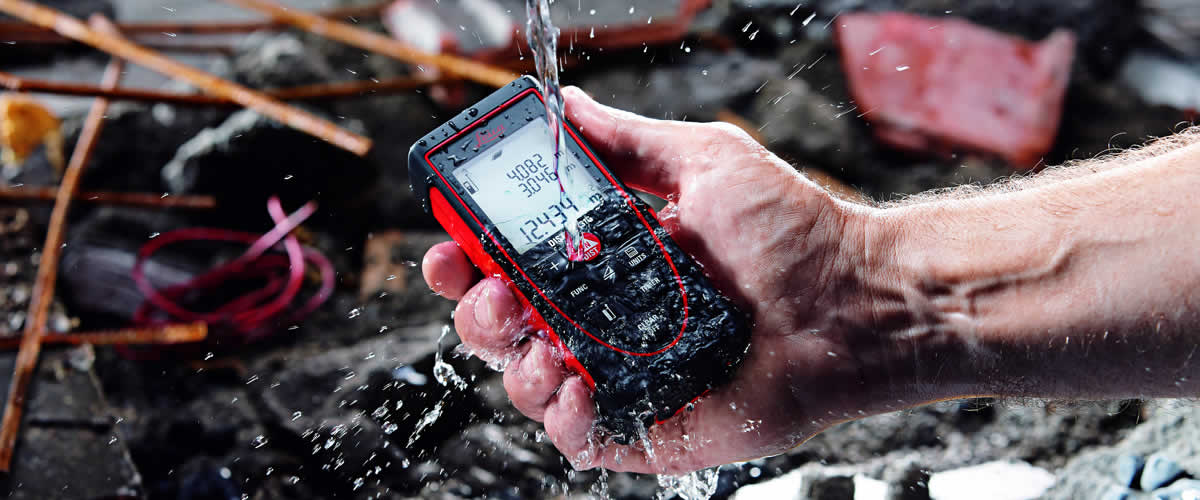 Comparison Table for Leica Disto Laser Measurers
Functions and Technical Specifications

Hover over icon for details
Leica Disto Sketch

Accuracy (mm) / Range (m)

2mm • 40m

1.5mm • 60m

1mm • 100m

1.5mm • 100m

1mm • 120m

1mm • 150m

1mm • 200m

1mm • 200m

1mm • 300m

Intelligent Endpiece

Smart Horizontal

Bluetooth

V4.0 Smart

V4.0 Smart

V4.0 Smart

V4.0 Smart

V4.0 Smart

V4.0 Smart

Outdoor Pointfinder

Measure within Picture

Min/Max Function

Area/Volume

Triangle Room

Painter Function

Pythgoras Function

Trapezium Function

Sloped Object Measurement

Height Tracking

Height Profile Tracking

Touchscreen

Tilt Measurement

360°

360°

360°

360°

360°

Add/Subtract

Memory

Rechargeable Battery

IP Rating

IP54
dust and splash water

IP54
dust and splash water

IP54
dust and splash water

IP54
dust and splash water

IP65
water jet and dust-tight

IP65
water jet and dust-tight

IP65
water jet and dust-tight

IP54
dust and splash water

IP54
dust and splash water

Compass

Personalised Favourites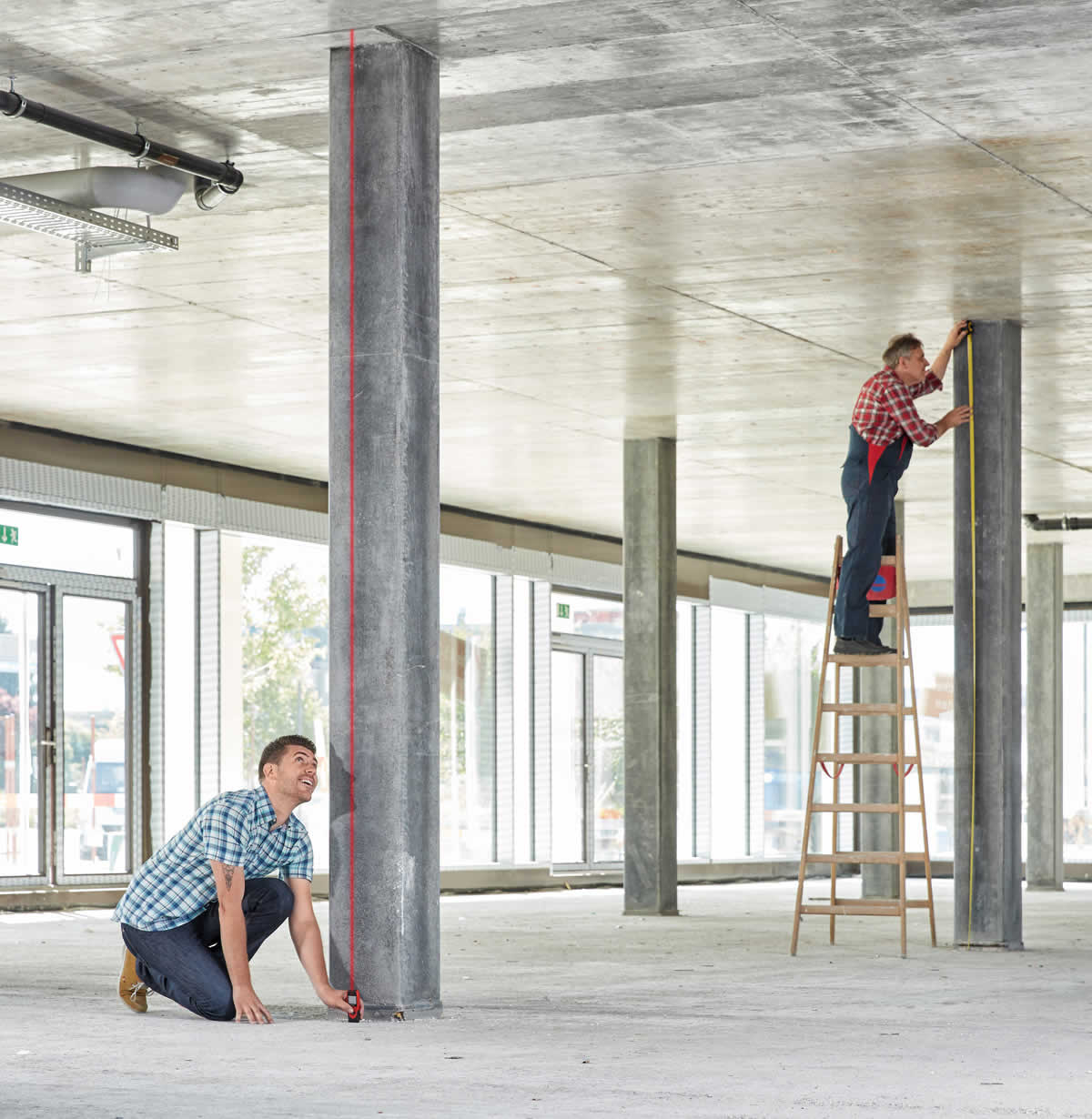 FAQs
Why should I purchase a Leica Disto over a standard tape or other measuring device?
The Leica Disto laser measurer is able to take measurements of up to 200m with an accuracy of ±1mm and in areas where a typical tape measure cannot reach. Each Disto is very easy to understand and use and very tough, especially the X310 model. Every Disto is rugged and suited to harsh working environments with protection against dust and splash water however the Leica X310, D410 and D510 are extremely tough and are dust tight and water-jet protected.
With built in functionality that can include volume, area, triangle/room, Pythagoras, slope and trapezium measurement calculations as well as Bluetooth connectivity that there is quite simply no comparison between a conventional tape measure and a Leica DISTO ™.
Why Leica Disto Laser Measurers?
Leica Geosystem's are known for their quality and accuracy and continue to develop, test and certify its laser measurers to the highest standards. Other measuring lasers can be found on the market which are of lower quality and deliver less accurate results. The Leica standard guarantees the accuracy by testing against known benchmarks and competitors and provide an accuracy of ±1mm for nearly all Disto's in the range. In short, Leica are the world leaders when creating laser measuring equipment and when you buy your Leica Disto from SCCS – The Survey Equipment Company you will have the confidence that that your measuring device will work reliably out the box for many years.
I have obstacles in the way. Which Disto do I need?
The Leica Disto function Smart Horizontal Mode™ determines the horizontal distance with ease. If you take a measurement at an inclination of ± 45°, the Leica DISTO always calculates the shortest distance. So you can measure even over the top of objects and people. The Leica Disto's that have this functionality are the X310, D410, D510, D810 and S910.