Common questions on the new Leica DS2000 utility detection radar answered by Thomas Grant-Jones, technical advisor for detection and avoidance solutions at SCCS.
A brief overview of the Leica DS2000 Utility Detection Radar.
The Leica DS2000 detects and positions underground assets, gathering vital information. Data collection and export of underground utilities, from storm sewers to fibre optics is possible with the Leica DS2000.
Click here for full Leica DS2000 Spec.
Key Benefits include
Comprehensive detection and underground mapping.
Identify assets and potential threats.
Data storage and export.
Advanced ergonomics for easy manoeuvrability.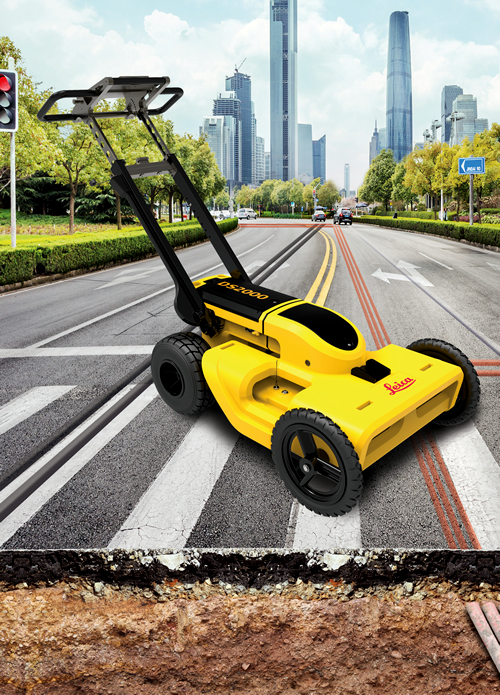 FAQs
What separates the Leica DS2000 from other utility detection GPRs?
The Leica DS2000 is a robust, user friendly system. It features two frequencies meaning that it's able to comfortably look into both shallow and deeper ground at any one point. This means you're able to clearly see both shallow and deeper services on the screen at the time of acquisition.
---
On average in the UK & ROI, what would you say is the deepest you can see to effectively locate utilities?
This is variable as ground conditions aren't the same everywhere – however, on average I'd say anything between 1.5 – 2.5 meters.
---
If I've used a DS2000 GPR on a project, does this mean I wouldn't need to use an Ezicat & Genny or vice versa?
No, in accordance with PAS128 these are two separate steps in utility detection. You can miss things with an Ezicat that you wouldn't necessarily miss with a GPR – for example: plastic pipes that carry water or gas.
---
Utility surveying is a new service provision to our company, we're not in a position to invest in all of the kit until demand picks up. Is there an alternative to purchasing a system straight away?
Of course, SCCS has a big rental fleet with competitive rates for both one off and long term hire periods.
---
What do I need to know before if I purchase or hire a DS2000?
Nothing necessarily, we can provide you with comprehensive product training and also give you an understanding of what different features look like in DS2000 data.
Do you provide customer support for the?
Yes, all you need to do is give SCCS a call or email for any queries on how to use the GPR.
---
Our client hasn't stated whether or not they want the services marked on-site or if they want a paper trail?
No issue, any data recorded with a DS2000 is automatically saved to the tablet (PC). Once a GPR survey is finished you can print out a PDF survey report which will contain information on the completed survey.
---
Can you use GPS with GPR?
Absolutely, you can use the DS2000 with or without GPS. We can provide you with a GPS system that talks directly to the software. Alternatively, you can use your own system as long as it meets the minimum requirements ($GP GGA, serial port or Bluetooth connection, and a minimum of 5Hz).