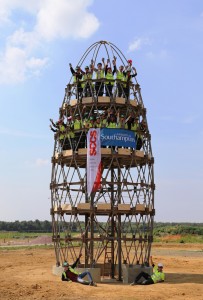 SCCS – The Survey Equipment Company are proud to have recently supported Southampton University with their Constructionarium project at the secure site in Bircham Newton in Norfolk.
Started over ten years ago, Constructionarium provides a practical construction experience allowing both students and professionals to construct scaled down versions of buildings, bridges, dams and other engineering developments. The project is aimed to link educational institutions with the construction industry and to make sure that students are able to relate their understanding gained in a practical and relevant environment.
SCCS provided both technical experience and knowledge along with surveying equipment including Leica TS06plus Total Stations during the 5 day event.
"We are happy to support Southampton University on this event and feel it is important to invest in the future of education within the UK Civil Engineering industry."
Richard Gregg, Construction Manager at SCCS
"Thanks once again for supporting us during the 2014 Constructionarium"
Dr Luke Myers FHEA, at Lecturer at Southampton University