Leica TS13 Mid-Range Robotic Total Station
Leica TS13 Mid-Range Robotic Total Station

Description
Additional Info
Delivery & Returns
Downloads
A new standard for efficient surveying
The Leica TS13 total station provides a fast, reliable and efficient solution tailored to the users needs to measure and layout more points. Equipped with Automatic Target Recognition (ATR) technology and optionally with target lock and SpeedSearch to find and lock on to prisms quickly, it provides accurate measuring to targets. Combined with Leica Captivate field software, the TS13 offers a simple and productive way of coding and line work.
The TS13 works with the revolutionary Leica Captivate field software, turning complex data into the most realistic and workable 3D models. It spans industries and applications with little more than a simple swipe, regardless of whether you work with GNSS, total stations or both. A smooth data transfer ensures the project stays on track. Captivate and Leica Infinity office software work in conjunction to join previous survey data and edit projects faster and more efficiently.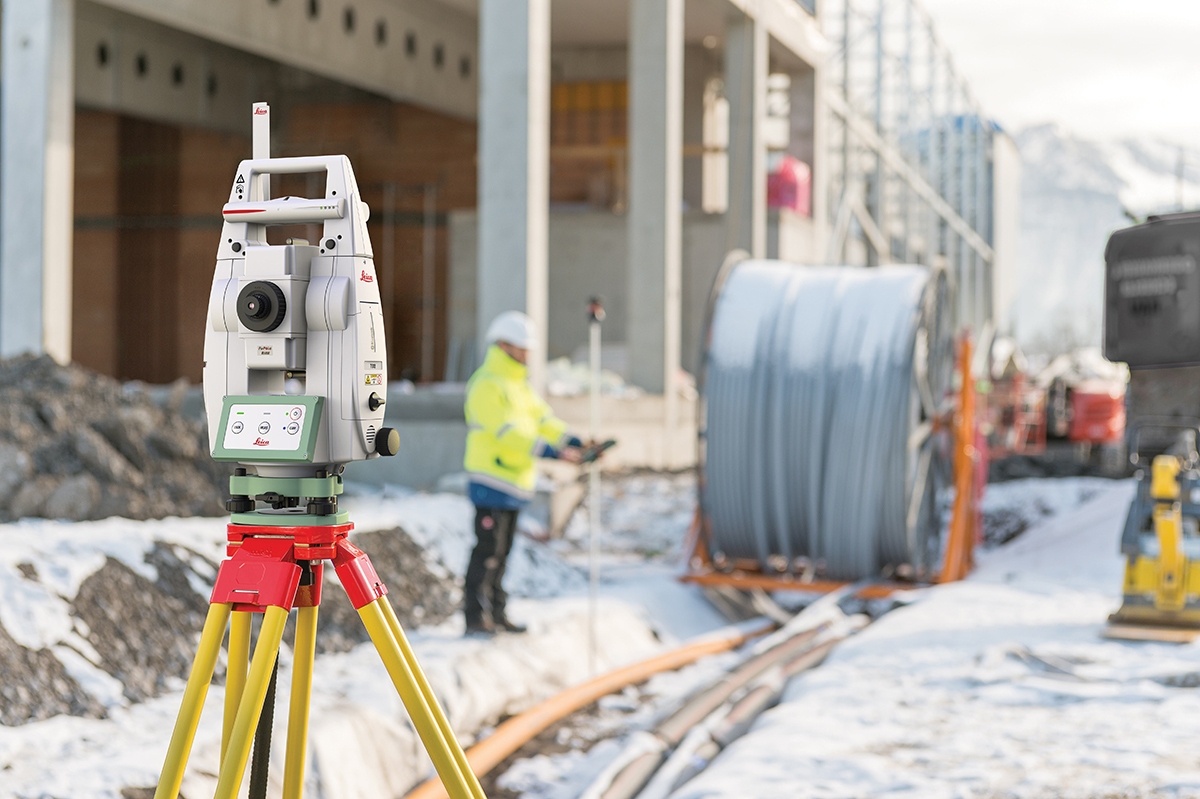 Leica TS13 Total Station

Basic variant

ANGULAR MEASUREMENT
Accuracy 1 Hz and V
Absolute, continuous, diametrical
1" (0.3 mgon), 2" (0.6 mgon), 3" (1 mgon), 5" (1.5 mgon)
DISTANCE MEASUREMENT
Range 2
Prism (GPR1, GPH1P) 3
Non-Prism / Any surface 4
1.5 m to 3500 m
R500: 1.5 m to >500 m, R1000: 1.5 m to >1000 m
Accuracy / Measurement time
Single (prism) 2,5
Single (any surface) 2,4,5,6
1 mm + 1.5 ppm / Typically 2.4 s
2 mm + 2 ppm / Typically 3 s
Laser dot size
At 50 m
8 mm x 20 mm
Measurement technology
System analyser
Coaxial, visible red laser
AUTOMATIC AIMING - ATR
Target aiming range2
Circular prism (GPR1, GPH1P)
360° prism (GRZ4, GRZ122)
1000 m
800 m
Accuracy 1,2 / Measurement time
ATR angle accuracy Hz, V
1" (0.3 mgon), 2" (0.6 mgon), 3" (1 mgon),
5" (1.5 mgon) / Typically 3-4 s
GUIDE LIGHT (EGL)
Working range / Accuracy
5 - 150 m / Typically 5 cm @ 100 m
GENERAL
Processor
TI OMAP4430 1GHz Dual-core ARM®
Cortex™ A9 MPCore™
Operating system – Windows® EC7
Power management
Exchangeable Lithium-Ion battery
Operating time 8 - 10 h
Field software
Leica Captivate incl. apps
Running on field controller (Leica CS20)
Data storage
Internal memory 2 GB
SD card 1 GB or 8 GB
On field controller (Leica CS20)
Interfaces
RS232, USB, Bluetooth®, WLAN
Weight
Total station including battery
5.0 kg
Environmental specifications
Working temperature range
Dust / Water (IEC 60529) / Humidity
–20°C to +50°C
IP55 / 95%, non-condensing
Keyboard
Face I standard
4 button keyboard with status LEDs

Upgrades

KEYBOARD DISPLAY UNIT (Optional)
Keyboard with display
Face I and face II optional
5" (inch), WVGA, colour, touch
25 keys, illumination
Power management
Exchangeable Lithium-Ion battery
Operating time 6 - 8 h
Field software
Leica Captivate including apps
Running on TS13 instrument
Data storage
Internal memory 2 GB
SD card 1 GB or 8 GB
On TS13 instrument
Weight
Total station including battery
5.3 kg
TARGET LOCK (Optional)
Target locking range2
Circular prism (GPR1, GPH1P)
360° prism (GRZ4, GRZ122)
800 m
600 m
ROBOTIC SURVEYING including PRISM FAST SEARCH (Optional)
SpeedSearch range / Search time
360° prism (GRZ4, GRZ122)
300 m / Typically 7 s
Robotic range with long-range
Bluetooth® 8
To CS20 internal long-range Bluetooth®
To CTR20 expansion pack
500 m
1000 m
| | |
| --- | --- |
| SKU | LeicaTS13 |
| Package Includes | N/A |
| Brand | Leica Geosystems |
We will normally send your order the next working day for stock items or the same day if we receive your order before 2pm.
We despatch orders Monday to Friday and our standard delivery days are Monday to Friday although we can arrange a Saturday morning delivery if requested.
We will confirm the despatch of a web order by email.
Delivery Costs
Royal Mail second class signed for delivery £4.20 (subject to size and weight)
DPD Delivery 1-3 days £15.00
Saturday Delivery (orders must be placed before 12:00noon on Friday) £25.00
FREE orders over £200 exc. VAT
Collection from Alpha House FREE
*UK Mainland excludes Northern Ireland, Scottish Highlands, Offshore Islands and the Channel Islands.
Delivery charges to the above areas are subject to the weight and volume of products purchased. For Prices please call or email sales@sccssurvey.co.uk
Deliveries outside the UK
Unlike many UK based retail websites we aim to provide our export customers with the same standard of service as our UK customers.
It is possible to order goods for delivery to most countries worldwide, however, due to the wide range and size of our products it is impossible to state these costs online. Please either email us with your order and we will get back to you immediately with delivery costs or buy the goods online and we will call you to arrange any additional payment.
Product Availability
We make every effort to keep all our products in stock. **If an item is out of stock we will contact you immediately, inform you when it will be in stock and then get hold of it as quickly as possible. When we receive the item we will send it to you by next-day delivery.
If an item is not available at the time of purchase, we will inform you and advise of the estimated delivery date. You will be given the option to cancel the order or wait for the goods.
Export and International Shipping
From our UK headquarters, we export orders of all sizes to many countries across Europe and worldwide, particularly the US and the Middle East.
Export services:
We offer a comprehensive and efficient export service including:
Packaging and transportation worldwide
Insurance where required
Customs documentation
For more information please do contact our export department: export@sccssurvey.co.uk
Returns
We hope you will be pleased with your purchase. Should you wish to return anything to us we will be happy to refund or exchange any goods returned to us unused, undamaged and fully resaleable within 10 working days of receipt by the customer. The cost of returning any goods other than faulty goods is paid by the customer.
The customer is liable for any goods returned to us that arrive damaged due to poor packing on the customers part.
If goods are returned to us after 10 working days or not in a fully resaleable condition, we reserve the right to refuse a refund or to deduct a 25% re-stocking charge.
Please keep your proof of postage from the Post Office until we have confirmed that we have received your returned items.
Refunds will be made to debit/ credit cards within 5 working days of receiving the returned goods. There is no refunds on software once payment has been received.
Cancellations and Changes
Please contact our sales team on 01480 404888 if you wish to change or cancel an order.
VAT Invoice
We will send out a VAT invoice with your goods.