Leica NOVA TS60 Total Station
Leica NOVA TS60 Total Station

Description
Additional Info
Delivery & Returns
Downloads

0,5" To the point.
Leica Nova TS60 is the world's most accurate total station, enabling you to work with the best angular (sub-second) and distance accuracy (sub-millimetre). It is designed and manufactured to the highest levels of quality and best fit for the most demanding projects due to its reliability even in the harshest conditions. Be it rain, fog, dust, sun, heat shimmer or reflections: with the TS60 you will always stay on top of your game.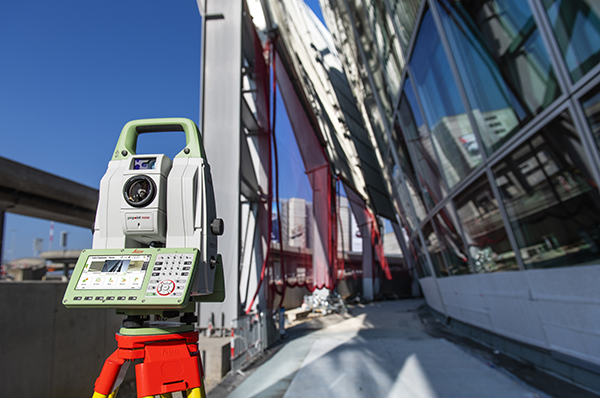 When working on demanding surveying projects your main priority is to avoid mistakes and have an instrument that always works with the expected highest accuracy – an instrument you can rely on. This way you reduce the risk of cost and delays due to inaccurate or unreliable measurements, even under challenging environmental conditions. The Leica Nova TS60 leaves no room for compromises: it delivers the world's best angular accuracy of 0.5" and distance accuracy of 0.6mm + 1ppm. The instrument remains extremely accurate even under the harshest conditions like rain, fog, dust, sun, heat shimmer or reflections with the sole intention of giving you the ultimate peace of mind.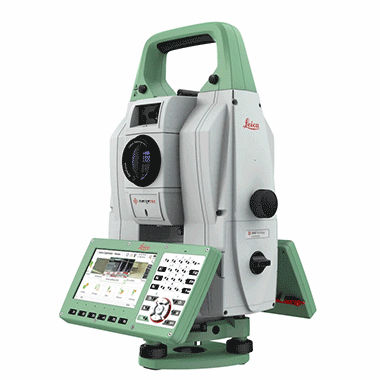 ACCURACY AT ITS BEST
Highest accuracy for stakeout tasks in construction projects: stakeout design data, guiding pre-fabricated elements to the right location.
Reference network measurements for construction and infrastructure projects: define the reference network frame with precise angle and distance measurements.
Measuring buildings and structures: bridge condition/clearance analysis, BIM and as-built.
Monitoring measurements: permanent or campaign monitoring of bridges, buildings and steel structures.
Railways: control of slab track installation and clearance surveys.
Leica Nova TS60 Total Station Specification
ANGLE MEASUREMENT
Accuracy 1 Hz and V
Absolute, continuous, quadruple
0.5" (0.15 mgon)
DISTANCE MEASUREMENT
Range 2
Prism (GPR1, GPH1P) 3
0.9m to 3,500m
Non-Prism / Any surface 4
0.9m to >1,000m
Accuracy / Measurement time
Single (prism) 2,5
0.6mm + 1ppm / typically 2.4s
Single (any surface) 2,4,5,6
2mm + 2ppm / typically 2s 7
Laser dot size
At 50m
8mm x 20mm
Measurement technology
System analyser
Coaxial, visible red laser
IMAGING
Overview and telescope camera
Sensor
5 megapixel CMOS sensor
Field of view (overview / telescope)
19.4° / 1.5°
Frame rate
Up to 20 frames per second
MOTORISATION
Direct drives based on Piezo technology
Rotation speed / Time to change face
Maximum 200 gon (180°) per s / typically 2.9s
AUTOMATIC AIMING - ATRplus
Target aiming range2 / Target locking range2
Circular prism (GPR1, GPH1P)
1,500m / 1,000m
360° prism (GRZ4, GRZ122)
1,000m / 1,000m
Accuracy 1,2 / Measurement time
ATRplus angle accuracy Hz, V
0.5" (0.15 mgon) / typically 3-4s
POWERSEARCH
Range / Search time
360° prism (GRZ4, GRZ122)
300m / typically 5s
GUIDE LIGHT (EGL)
Working range / Accuracy
5 –150m / typically 5cm @ 100m
GENERAL
Operating System / Field Software
Windows EC7 / Leica Captivate with apps
Processor
TI OMAP4430 1GHz Dual-core ARM® Cortex™- A9 MPCore™
Autofocus telescope
Magnification / Focus Range
30 x / 1.7m to infinity
AutoHeight Module
Distance accuracy
1.0 mm (1 Sigma)
Distance range
0.7 m to 2.7 m
Display and keyboard
5" (inch), WVGA, colour, touch, both faces
37 keys, illumination
Operation
3x endless drives, 1x Servofocus drive, 2x Autofocus keys, user-definable SmartKey
Power management
Exchangeable Lithium-Ion battery
Up to 9h, internal charging capability
Data storage
Internal memory / Memory card
2 GB / SD card 1 GB or 8 GB
Interfaces
RS232, USB, Bluetooth®, WLAN
Weight
Total station including battery
7.7kg
Environmental specifications
Working temperature range
–20°C to + 50°C
Dust & Water (IEC 60529) / Blowing rain
IP65 / MIL-STD-810G, Methods 506.5 I and 507.5
Humidity
95%, non-condensing
1 - Standard deviation ISO 17123-3
2 - Overcast, no haze, visibility about 40 km, no heat shimmer
3 - 1.5m to 2000m for 360° prisms (GRZ4, GRZ122)
4 - Object in shade, sky overcast, Kodak Gray Card (90% reflective)
5 - Standard deviation ISO 17123-4
6 - Distance > 500m: Accuracy 4mm+2ppm, Measurement time typ. 6s
7 - Up to 50m, max. measurement time 15s
| | |
| --- | --- |
| SKU | Leica Nova TS60 NEW |
| Brand | Leica Geosystems |
We will normally send your order the next working day for stock items or the same day if we receive your order before 2pm.
We despatch orders Monday to Friday and our standard delivery days are Monday to Friday although we can arrange a Saturday morning delivery if requested.
We will confirm the despatch of a web order by email.
Delivery Costs
Royal Mail second class signed for delivery £4.20 (subject to size and weight)
DPD Delivery 1-3 days £15.00
Saturday Delivery (orders must be placed before 12:00noon on Friday) £25.00
FREE orders over £200 exc. VAT
Collection from Alpha House FREE
*UK Mainland excludes Northern Ireland, Scottish Highlands, Offshore Islands and the Channel Islands.
Delivery charges to the above areas are subject to the weight and volume of products purchased. For Prices please call or email sales@sccssurvey.co.uk
Deliveries outside the UK
Unlike many UK based retail websites we aim to provide our export customers with the same standard of service as our UK customers.
It is possible to order goods for delivery to most countries worldwide, however, due to the wide range and size of our products it is impossible to state these costs online. Please either email us with your order and we will get back to you immediately with delivery costs or buy the goods online and we will call you to arrange any additional payment.
Product Availability
We make every effort to keep all our products in stock. **If an item is out of stock we will contact you immediately, inform you when it will be in stock and then get hold of it as quickly as possible. When we receive the item we will send it to you by next-day delivery.
If an item is not available at the time of purchase, we will inform you and advise of the estimated delivery date. You will be given the option to cancel the order or wait for the goods.
Export and International Shipping
From our UK headquarters, we export orders of all sizes to many countries across Europe and worldwide, particularly the US and the Middle East.
Export services:
We offer a comprehensive and efficient export service including:
Packaging and transportation worldwide
Insurance where required
Customs documentation
For more information please do contact our export department: export@sccssurvey.co.uk
Returns
We hope you will be pleased with your purchase. Should you wish to return anything to us we will be happy to refund or exchange any goods returned to us unused, undamaged and fully resaleable within 10 working days of receipt by the customer. The cost of returning any goods other than faulty goods is paid by the customer.
The customer is liable for any goods returned to us that arrive damaged due to poor packing on the customers part.
If goods are returned to us after 10 working days or not in a fully resaleable condition, we reserve the right to refuse a refund or to deduct a 25% re-stocking charge.
Please keep your proof of postage from the Post Office until we have confirmed that we have received your returned items.
Refunds will be made to debit/ credit cards within 5 working days of receiving the returned goods. There is no refunds on software once payment has been received.
Cancellations and Changes
Please contact our sales team on 01480 404888 if you wish to change or cancel an order.
VAT Invoice
We will send out a VAT invoice with your goods.