Pipe Lasers
Leica Piper pipe lasers are perfect instruments for work in manholes, above ground or in the pipe itself. They are specifically suited for foul and storm sewer construction, gravity fed pipes and where a line grade and line is needed. Built for the tough working environment, each of the Leica Piper 100 and 200 lasers have extremely strong and durable cast aluminium housing. It is the only pipe laser that will fit within a 100mm/4" pipe and includes a very clear and easy to read display allowing operators to see grade numbers, battery status and the line and level indication.
Being uniquely designed it is versatile enough to work with the optional scope on above ground setups. When used in a pipe or manhole the Leica Piper levels are include rubber feet and a wide base for stability. They are also 100% waterproof and have a positive pressure nitrogen seal.
The Leica Piper Lasers will compensate for grade errors automatically either inside or outside of the pipe and includes wide self-levelling functionality so there is no need to tilt the laser. The multi-functional remote control will work up to 150 meters for features including line control.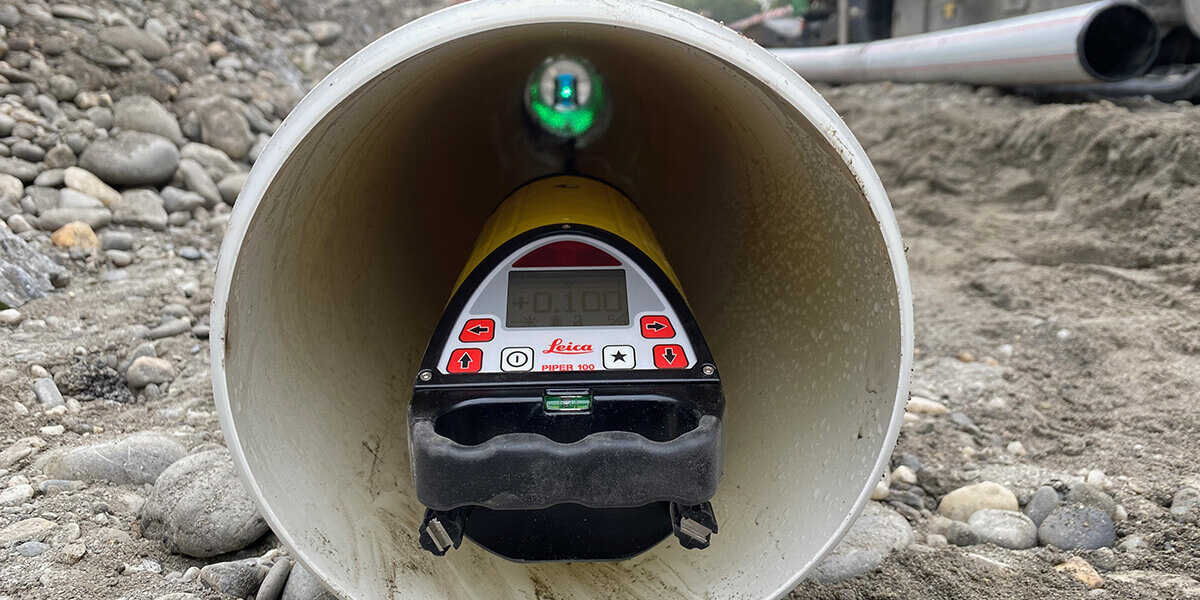 Leica Pipe Laser Comparison
| | | |
| --- | --- | --- |
| | Piper 100 | Piper 200 |
| LaserBeam | Extremely visible beam (red) | Extremely visible beam (red) |
| Data Display | Easy to read, large LCD display | Easy to read, large LCD display |
| Alignmaster | No | Yes |
| Grade & Line Locks | Yes | Yes |
| Wide Line (Adjustment) | Yes | Yes |
| Self-levelling Functionality | Over complete range | Over complete range |
| Grade entry | Digit or Direct | Digit or Direct |
| Remote control | Wireless included | Wireless included |
| Casing | Tough, solid metal | Tough, solid metal |
| Battery | Lithium-Ion (Rechargeable) | Lithium-Ion (Rechargeable) |
| Waterproof | Complete 100% | Complete 100% |