Hydrographic Surveying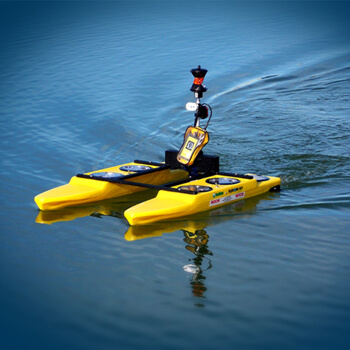 Sonarmite's Echo Sounder provides an excellent solution when surveying, measuring and identifying the physical features of seas, lakes, rivers and estuaries. With the use of Bluetooth technology, this instrument communicates with Leica Viva controllers and fits on to a detail pole which acts as an extension, providing an easy to use method to survey on water. The surveying can be done from a boat or with the HyDrone-RCV portable remote control boat platform.
The Sonarmite Echo Sounder is currently being used on projects in the UK for river surveys with the use of Leica robotic total stations.
The HyDrone™ RCV is a hand-portable, remote control survey boat platform. Working in conjunction with the HydroLite-TM portable echosounder kit to conduct bathymetric surveys, the HyDrone RCV accomplishes the same results as much more expensive RC survey systems, has a wide profile to avoid tipping, and watertight construction.
It's rugged, lightweight, and is manufactured from high quality marine components. The system is easily disassembled for transport and shipping.
For further information and demonstrations please contact us.
SCCS-Hydrographic-Solution.pdf
Read an interview with Muneer Hassan on the benefits of Sonarmite's Echo Sounder and Hydrone-RCV