Matt Lock, Hexagon
Despite recent challenges, the trend for rail use is positive and moving large numbers of passengers and freight by rail plays a very important role in the sustainability challenges the UK faces. Maintaining and improving a rail infrastructure that is in high demand safely and efficiently is the focus of the UK's rail owners. Finding efficiencies, cutting down operating costs, reducing emissions along with improving journey times and costs for passengers are all important on this journey.
One way to improve efficiencies is to operate in a more digital-based world, by streamlining paper-driven and process-driven ways of working. Improving safety is also high on the agenda, safety of the people working in the rail environment and of course the passengers themselves.
If there is construction going on around the railway, monitoring sensors can detect whether that work is impacting the track or any structures like bridges, cuttings, embankments, or buildings that are adjacent to the track. If construction activities disrupt the railway or change the track geometry, it can negatively impact the progress of trains, so an early warning is vital. New technologies and the smart usage of data are leading to exciting changes. Surveying is positively impacting the future of the rail network, sustainability, and ongoing improvement projects.
Sustainability and rail
Decarbonising the railway is important, but the current carbon footprint of the rail network accounts for a relatively small percentage of the UK's emissions. Where rail can play a significant role, however, is to absorb carbon from other forms of transport, particularly passenger cars, freight via HGVs and airline travel. As part of a joined-up infrastructure plan, the railways can greatly reduce the emissions of the UK. To do this, Network Rail is continuously working on ways to improve journey times and routes across the country to incentivise travelling by train.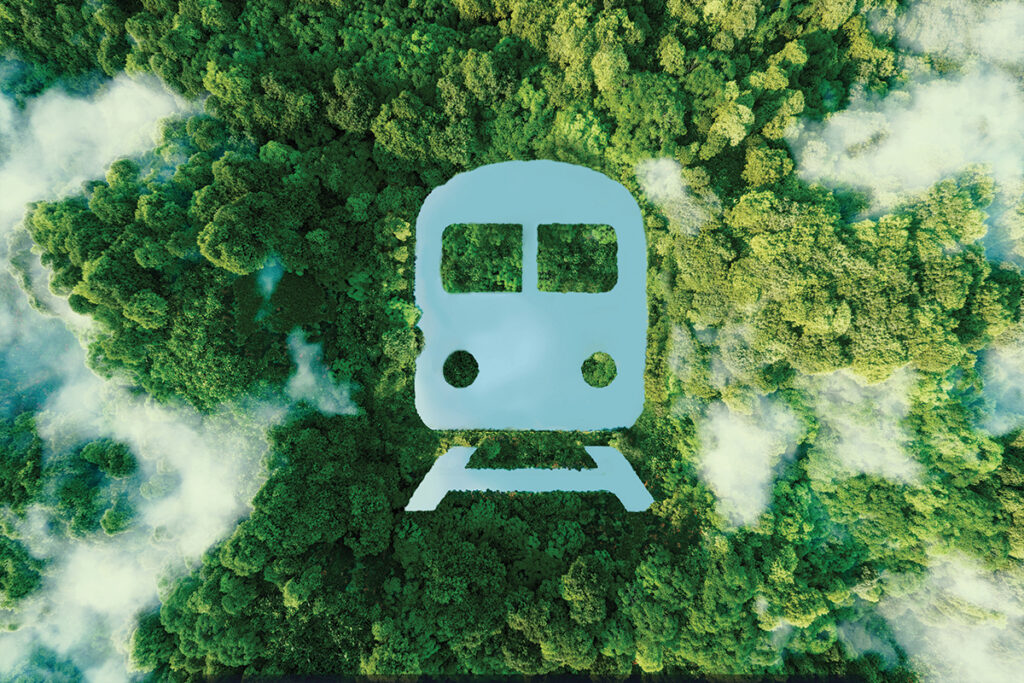 From a sustainable perspective, the railway offers huge benefits for any country, but particularly for ones like the UK with a lot of dense urbanisations. We already have a robust rail network linking our cities together, but the upgrades to our network and major projects like East West Rail, TransPennine and HS2 are vital to encourage more passengers onto trains.
However, although rail has the potential to positively impact our carbon footprint, it's already facing its own issues due to climate change. The rail network is experiencing more and more environmental challenges, as we no longer have the same weather patterns we're used to in this country. We have seen higher temperatures causing the potential for track buckles and very wet periods meaning railways are more prone to flood events which together puts the infrastructure under greater strain, negatively impacts line speed and thus journey times.
The role of surveying in rail projects
When we look at rail, there are four main areas to address. These are track maintenance, renewals, civils projects, and larger-scale projects.
Track maintenance
For trains to run on time and at their correct line speed, the railway has to have a certain 3D alignment geometry as the train can only follow the rails. That may appear to be common sense but because ballast moves over time with the passage of trains, the track does too. So, if the geometry of the railway isn't correct, you have to reduce the line speed of the train. And if you reduce the line speed, you impact journey times and potentially reduce the number of trains that can run in a particular time.
So, it's very important that the railway geometry is correct and maintained. There are also other vital elements of the infrastructure such as the overhead power lines, embankments, cuttings, bridges, platforms, and tunnels that need to be looked after.
Renewals
When a piece of infrastructure can't be maintained anymore because it's gone beyond its usable life, it must be renewed. Network Rail has a programme of track renewals, which includes removing all the old track, ballast and the substrate of the railway, replacing it and installing new tracks. Total stations, machine control, lasers, GNSS and track measuring devices can address some of the equipment needs for renewal processes.
Civils projects
Civils might refer to a new building, a new structure, constructing a new bridge, or maybe even extending a platform. As railways have become more popular over the last 10-20 years there's huge pressure on the infrastructure. In the same way that surveying equipment would be used in the construction industry, Network Rail and their contractors use surveying solutions on their civils projects, particularly lasers, GNSS, total stations and laser scanners, very often to support BIM.
Major projects
Major projects in the rail network are in place to fill a gap in our connected infrastructure, upgrade capacity and very often electrify an existing line. Whether it's TransPennine, East West Rail or HS2, these are all creating capacity and helping to make the railway a more compelling option for passengers and freight. Because our main railway network is a mixed infrastructure, we have passengers and freight trains sharing the same network and that brings its own challenges. Major projects are working to increase capacity and create a faster, more reliable service. These works will help us to lower our carbon footprint by reducing the number of diesel lorries on our roads, reducing air travel, and encouraging more passengers by making train travel a more affordable and flexible option for passengers though delivering increased capacity.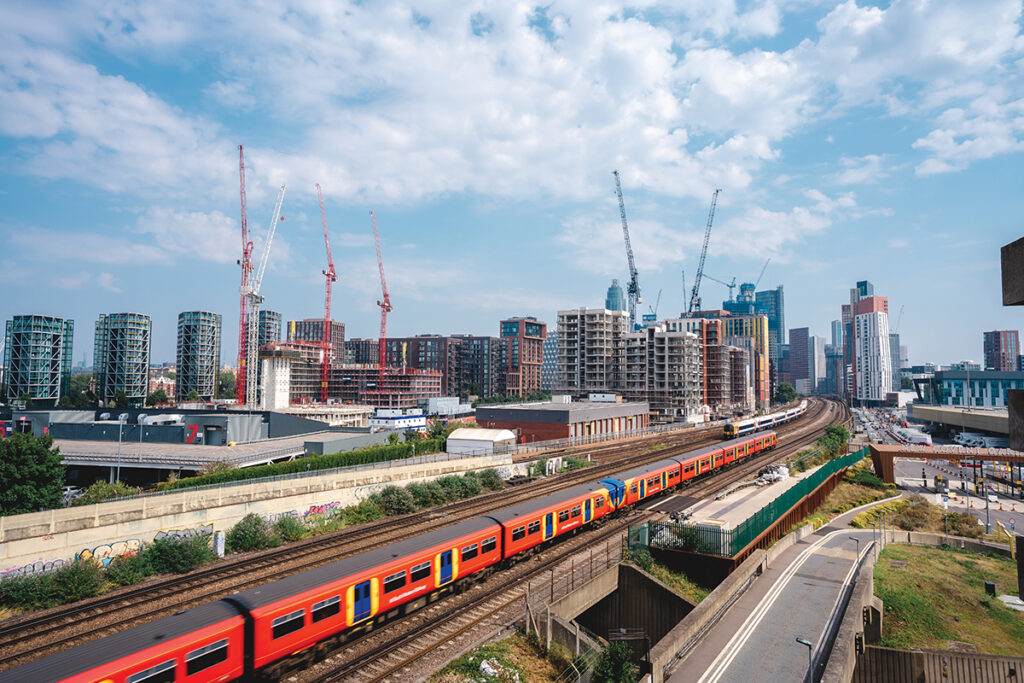 Survey equipment and the rail network
A large majority of surveying equipment can be utilised in those four project areas, with total stations, monitoring systems, GNSS, construction lasers, machine control, high-definition laser scanners, track measuring devices, software, and services like SmartNet widely used. Recent advancements in surveying equipment technology improves productivity and helps to reduce errors.
Monitoring
Whether movement is caused by human activity or a natural process, survey methods and equipment can be critical to understanding the nature of that movement and providing valuable information and warnings to stakeholders. There are many reasons for monitoring to be required on railways.
During maintenance and construction, any work near the railway may cause movements that damage the infrastructure or affect the track geometry, surrounding structures or embankments and cuttings putting operational trains at risk. This is equally true of movement triggered by weather events like prolonged periods of heat, heavy rainfall, high winds or extreme cold.
The combination of data from geodetic monitoring sensors (imaging total stations, scanning multi stations, GNSS) with geotechnical and environmental sensors (tilt sensors, distance meters, temperature sensors, water level gauges, etc.), delivers the complete picture about any movements happening in real time. This data needs to be analysed by intelligent software and turned into valuable information that can be presented in a format that is easy to understand and accessed remotely via a range of smart devices. This means rapid and critical decision making can be done safely by key personnel.
Reality capture
Reality capture has also become more important over the last few years and as we see more applications developing for autonomous survey and a growing requirement for intelligent 3D security, a range of scanning and imaging systems will offer new ways of working. From aerial lidar to mobile lidar on vehicles, and scanners on track measuring devices, all have been embraced by the rail industry over the last few years. There is limited access to the railway, but lots of people need to be on it carrying out work. Data rich information such as point clouds and images can be captured with a variety of our equipment be it airborne, vehicle-mounted, mobile handheld or tripod-mounted very efficiently.
Intelligent software
To compliment the hardware, intelligent software can take point cloud data along with imagery and turn it into useful data very quickly, allowing people across different teams to work more effectively. This brings us back to the earlier points about improving efficiency and safety.
With high-quality reality capture, you gain several benefits. Firstly, because the data is captured by fewer people and in many cases remotely or travelling at speed, the safety of personnel is improved, and fewer people are exposed to the rail environment. Secondly, the data is captured more quickly than traditional methods, meaning less time required on a very busy network. Thirdly, multiple stakeholders can use the same data (track engineers, gauging engineers, OLE engineers and structural engineers to name a few). Lastly, because the whole site sits in digital form on a computer, additional information can very often be taken from the existing dataset, reducing or even eliminating re-visits to site.
Once a 3D digital design has been issued, intelligent construction solutions can be utilised to build the infrastructure. Whether its instruments setting-out BIM models, lasers establishing gradients for earthworks or automated 3D machine control constructing the track-bed, they are all about improving productivity and safety.
So, as we further embrace the benefits of the digital world though BIM, digital twins, autonomous data capture and advanced software, intelligent products and services open up opportunities to capture as much data as we can, as accurately as we can, as quickly as we can and as safely as possible.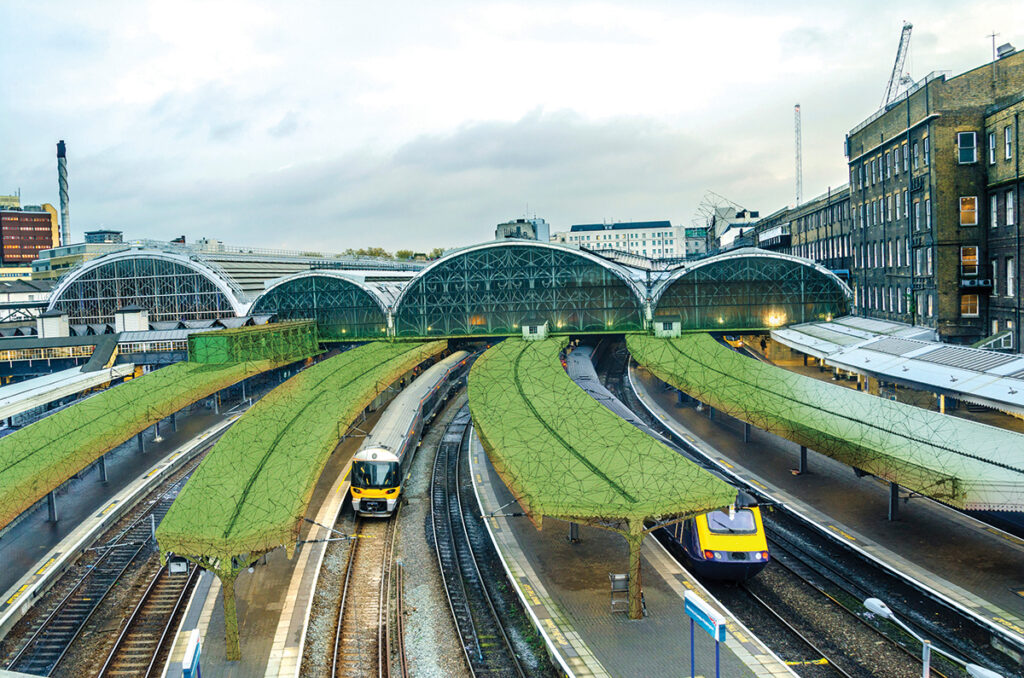 Track Measuring Devices
For the most demanding needs in modern railway surveying, Track Measuring Devices such as Amberg Rail's GRP system FX provide a highly modular and tailored solution. By combining precise, reliable, and robust hardware with intuitive software, these systems offer high levels of productivity and accuracy. They can be upgraded with several sensors such as profilers, scanners, GNSS and IMU's to support the as-built survey of existing railway lines for geometry and clearance analysis applications, as well as being used for the construction and maintenance of ballast and slab track. They have a proven record in the industry and are becoming invaluable for railway surveying, construction and tamping, fitting perfectly into the railway lifecycle and adding significant value.
Machine control
Excavators, dozers, and other heavy construction equipment are often found on site during the construction of infrastructure projects. Leica Geosystems provides a comprehensive solution which combines hardware and software across machine control with Leica ConX providing cloud-based transparency into the construction activity, synchronising design and as-built data between the machine and office as well as monitoring progress in real-time from anywhere on any device. Digital machine control optimises earthmoving jobs allowing users to import 3D models of the various layers of the rail design and then build them quickly and efficiently with minimum waste. They also have the flexibility to measure an area, create a design, and then directly dig according to that design if they wish. Personnel need to work in a safe environment and another huge benefit of machine control is an integrated safety awareness solution to help with collision avoidance. This system provides a visual and audio alert to both the operator in the cabin and personnel on foot when machine-to-people, machine-to-machine and machine-to-objects come into proximity with one another.
Location detection
Portable hardware with intuitive software allows engineers, surveyors and repair and maintenance companies to easily locate, visualise, and map utilities. Across the rail industry, reliable detection of hidden (or buried) utilities is vital when
doing all types of excavation work. A range of solutions including ground penetrating radar, cable locators and accessories for geographical positioning and digitally recording the information are invaluable. Operators can determine the position and depth of the buried utility, providing a distinct advantage when conducting ground surveys and works that require excavation.
GNSS receivers
GNSS receivers such as the Leica GS18 can be specified with imaging, allowing the engineer to quickly capture digital photos as they walk the site along with their 3D position. The photos can then be used to measure and store survey data, either while still on site or back at the office as well as provide an archive of the project. The GS18 can also incorporate an IMU which means the survey pole no longer needs to be held vertically to survey an accurate point on the ground, perfect for measuring detail like fence lines, drainage channels, embankments, and vegetation.
Matt Lock, Hexagon