An interview with Phil Marsh on the advantages of using Leica JetStream to improve the transfer of data across numerous platforms.
Hi Phil, please give us a short overview of yourself.
I am the HDS manager at SCCS where I have been for 6 years, and as the specialist in laser scanning and 3D modelling for land and measured building surveying I provide sales and support to all of our customers. During my career I have gained experience with modern TPS, GPS and HDS surveying equipment and knowledge with topographical and internal measured building surveys using Leica laser scanning hardware such as the new ScanStation P30/P40 and the software Leica Cyclone, CloudWorx and 3DReshaper.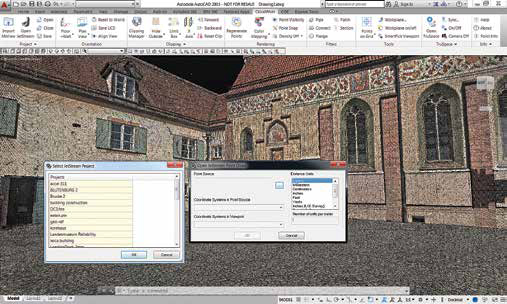 You've chosen to talk about the Leica JetStream software. Why?
Leica JetStream is a streaming data server for HDS projects and in a nutshell it speeds up the scanning workflow. It allows scan data to be sent to other users and clients very quickly. As point cloud data is typically huge in file size, sometimes terabytes of data, trying to distribute this to multiple users via file transfer or manually by disk can be a real nightmare. Instead, Leica JetStream compresses and circulates the captured point clouds to other users who can then load and render instantly.
So what are the benefits of Leica JetStream?
Speed, definitely. When integrating into projects the work flow speeds up no end. As the indexed data gets optimised and reduced by up to 10 times in size so it's quicker to work with. It also saves on storage space and as the data is managed from one location there's no duplication or mistaking the information.
This adds the obvious benefit of being easier to collaborate on projects and when working as a team. As I mentioned, the data is stored in one location such as a cloud services like Amazon and Google which can be accessed by multiple users at any time, across networks so ideal for unlimited sized groups.
Also, it loads projects instantly and gives super-fast rendering for CAD users who really will appreciate the benefit. Full density point cloud rendering all done in real-time, which speeds up panning, zooming and other interactions. All users hate waiting for rendering to complete and JetStream slashes this. It also means it's ideally suited for the advanced Leica P30 and P40 ScanStations.
Any other advantages?
Its scalability means it can accommodate single users to large groups and the extra available components are very affordable and on subscription, meaning users can be more flexible with adjusting their costs.
Who can use Leica JetStream?
Leica CloudWorx users and CAD companies mostly. Anyone using AutoCAD or anyone integrating a 3D point cloud data. Generally I suppose the entire CAD community.
What makes Leica JetStream unique?
I suppose its main unique pro is to be able to connect with all Leica CloudWorx plugins and in the future will be developed to connect with Leica Cyclone modules too.
Thanks very much for taking time out to do this Phil.