Leica GS18 T – The Original Tilt Compensating GNSS RTK Rover
Leica GS18 T – The Original Tilt Compensating GNSS RTK Rover
£24,594.00
Incl. VAT
£20,495.00
Excl. VAT

Description
Additional Info
Delivery & Returns
Downloads
Resistant to magnetic disturbances and calibration-free – no need to level
The Leica GS18 T is the world's fastest and simplest-to-use GNSS smart antenna and RTK rover. Measure any point quicker and easier without needing to hold the pole vertical.
This latest technology and innovation combine GNSS and IMUs (inertial measurement units) to be the first true tilt compensation solution that is immune to magnetic disturbances and is calibration-free.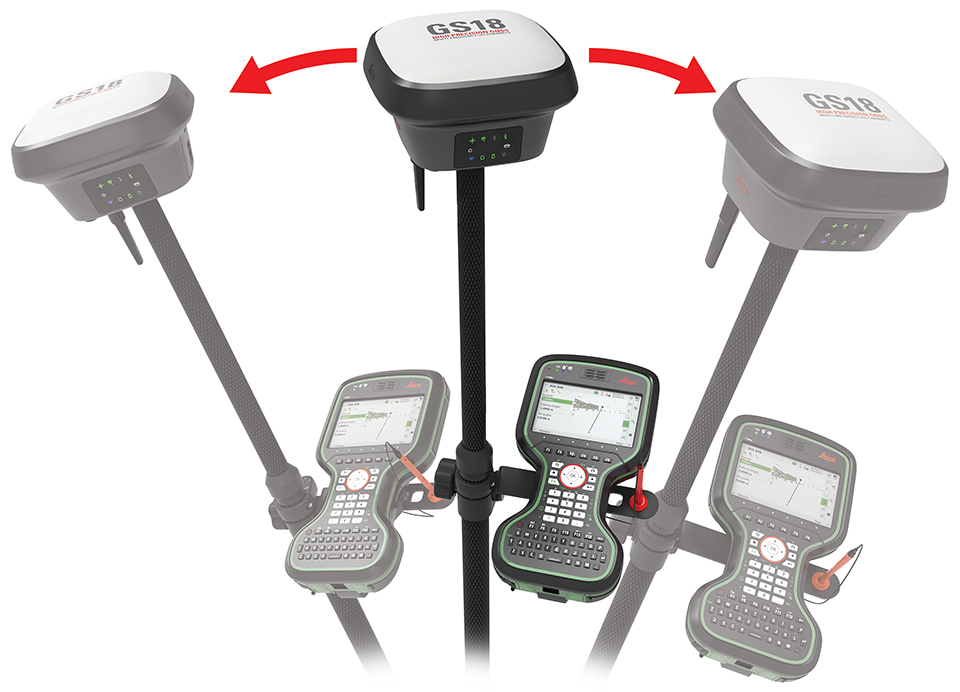 Focus on your task at hand and save time as you no longer need to watch and level the bubble. Continuous, accurate positioning when in close proximity to metallic objects - measure where others couldn't before. The GS18 T works directly out of the box without any calibration procedure.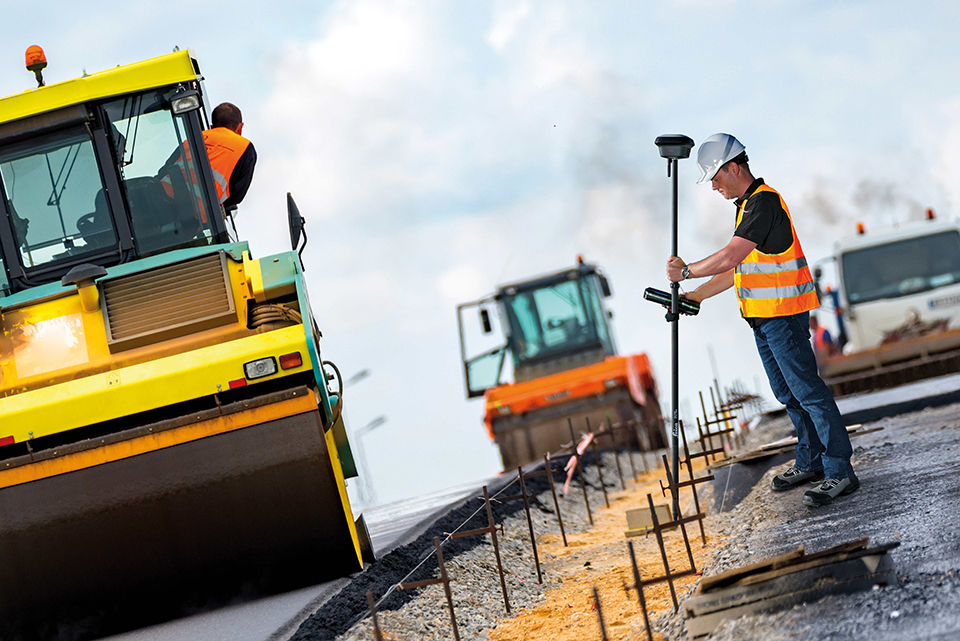 Engaging software
The Leica GS18 T RTK rover combines with the engaging Leica Captivate software for a powerful and immersive experience. Through the ease of touch, management of complicated data is made surprisingly enjoyable and actionable. Leica Captivate covers industries and applications with barely more than a simple swipe, regardless of whether you work with GNSS, total stations or both.
Infinite possibilities
While Leica Captivate captures and models data in the field, Leica Infinity software processes the data back in the office. An efficient data transfer guarantees the project stays on track. Captivate and Infinity works together to join prior survey data and edit projects quicker and more effectively.
With built-in quality assurance, this GNSS RTK rover records how the pole was levelled during the measurement and records the values, confirming measurement traceability and comprehensive quality reporting.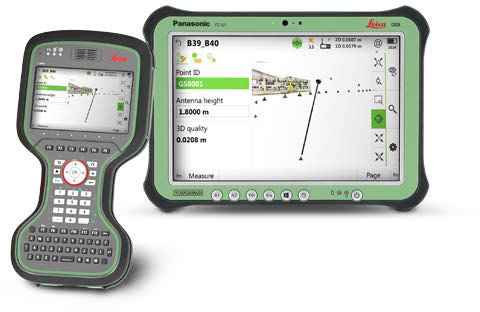 Powerful handheld devices
Take your complete office on the go when you learn the power to overcome any environment from the palm of your hand. The Leica CS20 controller and Leica CS35 tablet deliver the ultimate in control and accessibility with total mobility. Touchscreen technology allows for easy and fast data processing while an impressive 3D view transforms your GNSS experience.
TILT COMPENSATION
Increased measurement productivity and traceability
Calibration-free
Immune to magnetic disturbances
Integrated quality assurance of pole tilt
Reduction of human error

RTKplus
555 channels for more signals, faster acquisition and improved sensitivity
Intelligent management of multi-frequency, multiconstellation signals
Intelligent selection to automatically reject reflected or noisy signals

SMARTLINK
Achieve centimetre accurate positioning worldwide - perfect when working in remote areas around the globe
No RTK base station or RTK network required, correction data is continuously transmitted by satellite delivering global coverage
Bridging RTK outages for uninterrupted centimetre positioning
SMARTCHECK
Unique RTK technology provides continuous checks to guarantee correct results
Initialisation within seconds
Complete reliability

BUILT FOR THE MOST DEMANDING ENVIRONMENTS
IP66 / IP68 protection
Built for extreme temperatures of -40°C to +65°C
Fulfils toughest standards throughout the complete product lifetime
Rugged aluminium housing

ERGONOMICS
Integrated 4G mobile phone, UHF radio RTK devices
Compact housing

ONLINE SERVICES
HxGN SmartNet Satellite Positioning - your No.1 partner for network RTK
Leica Active Assist - the next level in support
Leica Exchange - transfer data easily, quickly and safely
Leica Geosystems GNSS Comparison Chart

Signal tracking

Dual-frequency

Dual-frequency

Multi-frequency

Multi-frequency

Multi-frequency

Multi-frequency

GPS
GLONASS
Galileo
BeiDou
SBAS

Tilt compensation

Single baseline RTK

Hz 10 mm + 1 ppm / V 20 mm + 1 ppm

Hz 8 mm + 1 ppm / V 15 mm + 1 ppm

Hz 8 mm + 1 ppm / V 15 mm + 1 ppm

Hz 8 mm + 1 ppm / V 15 mm + 1 ppm

Hz 8 mm + 1 ppm / V 15 mm + 1 ppm

Hz 8 mm + 1 ppm / V 15 mm + 1 ppm

Network RTK

Hz 10 mm + 0.5 ppm / V 20 mm + 0.5 ppm

Hz 8 mm + 0.5 ppm / V 15 mm + 0.5 ppm

Hz 8 mm + 0.5 ppm / V 15 mm + 0.5 ppm

Hz 8 mm + 0.5 ppm / V 15 mm + 0.5 ppm

Hz 8 mm + 0.5 ppm / V 15 mm + 0.5 ppm

Hz 8 mm + 0.5 ppm / V 15 mm + 0.5 ppm

Static (phase) with long observations

Hz 3 mm + 0.5 ppm / V 6 mm + 0.5 ppm

Hz 3 mm + 0.1 ppm / V 3.5 mm + 0.4 ppm

Hz 3 mm + 0.1 ppm / V 3.5 mm + 0.4 ppm

Hz 3 mm + 0.1 ppm / V 3.5 mm + 0.4 ppm

Hz 3 mm + 0.1 ppm / V 3.5 mm + 0.4 ppm

Hz 3 mm + 0.1 ppm / V 3.5 mm + 0.4 ppm

Static and rapid static (phase)

Hz 5 mm + 0.5 ppm / V 10 mm + 0.5 ppm

Hz 3 mm + 0.5 ppm / V 5 mm + 0.5 ppm

Hz 3 mm + 0.5 ppm / V 5 mm + 0.5 ppm

Hz 3 mm + 0.5 ppm / V 5 mm + 0.5 ppm

Hz 3 mm + 0.5 ppm / V 5 mm + 0.5 ppm

Hz 3 mm + 0.5 ppm / V 5 mm + 0.5 ppm

Reliability

99,95%

99,95%

99,95%

99,95%

99,95%

99,95%

Raw data
RINEX data logging
NMEA out

RTK reference station functionality

Cellular / UHF Radio (receive & transmit) modem

Controller internal

3G

3G

4G

3G

3G

Storage

Controller internal

MicroSD card

MicroSD card

SD card

SD card

SD card

User interface
Buttons
LEDs
Display

1

3

2

7

2

7

2

8

2

7

7

7

Power, Bluetooth®, USB, RS232

Event, PPS

Operating temperature -40°C to 65°C

IP68 proof against water, sand and dust

Weight (without battery)

0.60 kg

0.93 kg

0.93 kg

1.20 kg

1.20 kg

1.84 kg
| | |
| --- | --- |
| SKU | GS18T |
| Brand | Leica Geosystems |
| Package Includes | N/A |
We will normally send your order the next working day for stock items or the same day if we receive your order before 2pm.
We despatch orders Monday to Friday and our standard delivery days are Monday to Friday although we can arrange a Saturday morning delivery if requested.
We will confirm the despatch of a web order by email.
Delivery Costs
Royal Mail second class signed for delivery £4.20 (subject to size and weight)
DPD Delivery 1-3 days £15.00
Saturday Delivery (orders must be placed before 12:00noon on Friday) £25.00
FREE orders over £200 exc. VAT
Collection from Alpha House FREE
*UK Mainland excludes Northern Ireland, Scottish Highlands, Offshore Islands and the Channel Islands.
Delivery charges to the above areas are subject to the weight and volume of products purchased. For Prices please call or email sales@sccssurvey.co.uk
Product Availability
We make every effort to keep all our products in stock. **If an item is out of stock we will contact you immediately, inform you when it will be in stock and then get hold of it as quickly as possible. When we receive the item we will send it to you by next-day delivery.
If an item is not available at the time of purchase, we will inform you and advise of the estimated delivery date. You will be given the option to cancel the order or wait for the goods.
Export and International Shipping
From our UK headquarters, we export orders of all sizes to many countries across Europe and worldwide, particularly the US and the Middle East.
Export services:
We offer a comprehensive and efficient export service including:
Packaging and transportation worldwide
Insurance where required
Customs documentation
For more information please do contact our export department: export@sccssurvey.co.uk
Returns
We hope you will be pleased with your purchase. Should you wish to return anything to us we will be happy to refund or exchange any goods returned to us unused, undamaged and fully resaleable within 10 working days of receipt by the customer. The cost of returning any goods other than faulty goods is paid by the customer.
The customer is liable for any goods returned to us that arrive damaged due to poor packing on the customers part.
If goods are returned to us after 10 working days or not in a fully resaleable condition, we reserve the right to refuse a refund or to deduct a 25% re-stocking charge.
Please keep your proof of postage from the Post Office until we have confirmed that we have received your returned items.
Refunds will be made to debit/ credit cards within 5 working days of receiving the returned goods. There is no refunds on software once payment has been received.
Cancellations and Changes
Please contact our sales team on 01480 404888 if you wish to change or cancel an order.
VAT Invoice
We will send out a VAT invoice with your goods.