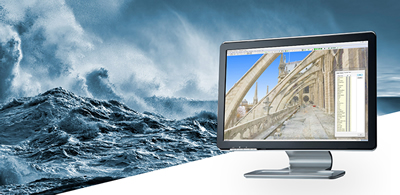 Last week at the SPAR International Conference in Houston Texas, USA along with the announcement of the new Leica ScanStation family of scanners we also introduced several new Leica Geosystems HDS™ software product offerings. Leica JetStream Ultra-High Performance Point Cloud Project Server and TruView Global.
Leica JetStream provides the exhilaration of instantly opening and immersing yourself in laser scan point clouds -- with literally billions of points -- inside the world's most popular CAD systems using Leica CloudWorx. Users will experience the new "All-the-points, All-the-time" capability while panning and zooming in real-time like never before. This product was literally greeted with applause when introduced at the SPAR product release party and the demos in the booth showed this product will be making a huge splash in the market when it ships later this quarter.
TruView Global introduces fast, easy, fun and effective methods of sharing your point cloud data anywhere, anytime. Users can drag and drop TruView projects into the cloud and connect their entire project ecosystems with no-install required, accessed from desktop and mobile platforms with shared markups and annotations, and more. They can also begin to truly develop a Content-as-a-Service business offering to leverage point cloud projects across town and across the globe.
You can learn more by reading the recent press releases which give a great overview of each of these new products:
Orders & Availability
Leica JetStream and Leica TruView Global are scheduled for availability in Q2 2015.