Limited time offer
As an existing user of Leica products, to further increase your productivity, Leica Geosystems are pleased to offer you a limited time offer to upgrade to "Cloudworx for AutoCAD PRO" at a very low price.
Until March 10th 2017, you can upgrade as follows: Leica CloudWorx AutoCAD Pro Upgrade from Basic for just £700 ex VAT!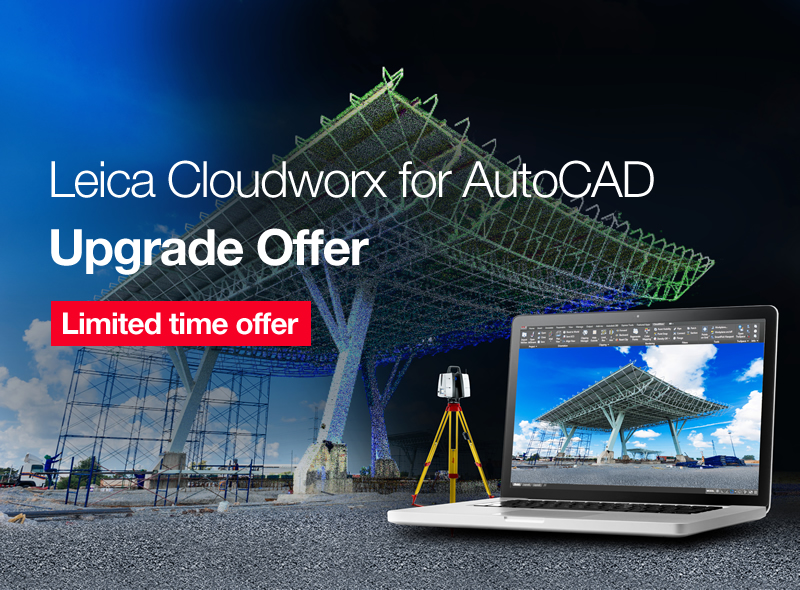 This represents a a huge saving and is offered as part of the JetStream introduction to provide a path to maximum productivity, all in one step.
A CCP must be purchased for £700 ex VAT as part of this upgrade (payable monthly via direct debit) - and you can add JetStream whenever you wish. The CCP allows the user to access support plus ongoing upgrades, many of which are planned for the future.
Cloudworx for AutoCAD PRO offers significant benefits on top of the Cloudworx BASIC feature set.
Some of these are:
Modeling Tools - cylinders, patches etc.
Clashing Tools - a very useful feature, especially in Plant applications.
SmartPicks.
TruSpace.

Use TruSpace with imagery.
Draw over a picture within TruSpace - civil, architecture, BIM etc.
TruSpace makes a project significantly easier to visualise.
Cloudworx fitting commands available directly from TruSpace.
Pick it, and have it found via region grow.

Colour Mapping - change colour of point clouds, switch from RGB to Intensity, on-the-fly.
Fit Section command – architecture, BIM, and plant. Easily fit lines.
UCS Orientation Tools - One click to place the UCS.
Survey Features - find ground points etc.
Point Extraction - to use with the final AutoCAD data to create a mesh.
Fit centre lines accurately to scanned pipes - use centre lines as a basis for intelligent modelling.
Combining JetStream with an upgrade of your BASIC "Cloudworx for AutoCAD" product to the PRO version will enable you to vastly increase your productivity, maximising your investment and your profit.
Contact our dedicated sales team 01480 404888 or email sales@sccssurvey.co.uk for further details.