Leica iCON iXE2 - 2D System
Leica iCON iXE2 - 2D System
SKU:
Leica iCON iXE2 - 2D System

Description
Additional Info
Delivery & Returns
Downloads
The most flexible 2D excavator machine control solution
Leica iCON excavate iXE2 is an easy-to-use, multifunctional 2D control system designed to make excavating easier and more productive. The system allows multiple elevation and slopes to be constructed, at any orientation without resetting the machine or laser height reference. Just enter the required depth and slopes and start off digging.
iCON excavate iXE2 displays the bucket's actual position relative to design elevation and slope, allowing you to reach the design grade faster. It features the unique PowerSnap concept that enables instant system installation and full interchangeability of control boxes. Flexibility that will inspire you!
iCON excavate iXE2 is a fully upgradeable system. You can start with single slope operation and upgrade as needed to a full dual slope system by adding a rotation and tilt bucket sensor to your system. With an additional 3D control panel and GNSS sensors you get a highly efficient 3D guidance solution that allows you excavate according to the 3D design model on your panel.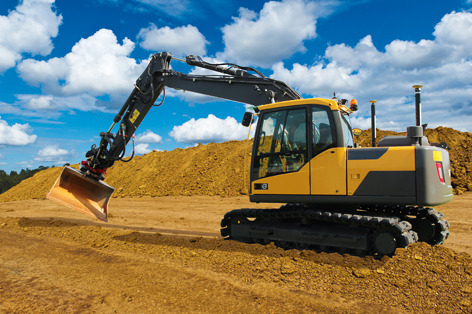 Integrated tilt rotator support
Leica iCON excavate iXE2 provides integrated tilt rotator support, giving the operator clear guidance information about the actual tilt and rotation position relative to his project. iCON excavate with tilt rotator support increases your productivity and lets you maximise the use and benefits of your machine control solution.
Benefits
High-accuracy automatic dual slope and level control
Realtime cut/fill indication on the graphic display
No grade checking needed
Maximise your machine utilization and return-on investment by getting right to grade the first time
No more over excavations – dig to planned grade easily and accurately. Save material and fuel cost
Use iCON excavate iXE2 on multiple machines in your fleet. PowerSnap allows you to interchange control panels easily and rapidly as needed
Fully scaleable system
Audio and on-screen warning of buried services with connected EZiDIG sensor (available option)
Easy vertical positioning of sheet piles with the unique PowerDriller function
Precise sculpting of edges, slopes and contours by support of tilt rotator attachments
System Features
Simple user interface with intuitive graphics
Function keys for instant access of important functions
Selectable bucket reference point
Cable-free control box. Easy snap-on/snap off mechanism
Altitude warning – audible warning on selected height, useful for overhead cables and working under bridges and inside buildings.
Interface to EZiDIG Buried Service Detector
PowerDriller drilling function
PowerSnap Technology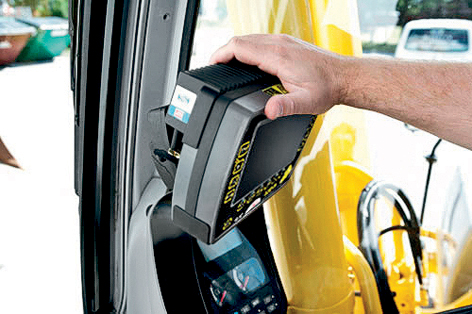 You want to use your control panel on several machines in your fleet with an easy, quick install? PowerSnap allows simple and fast exchange of the panel between different machines
The patented Snap-on & Snap-off technology from Leica Geosystems allows machine sensors and control panels to be interchanged for rapid reconfiguration of machine control hardware. Swapping control panels and sensor technology has never been easier and faster - alter machine capabilities as your project needs change.
PowerSnap Benefits
System is up and running in no time
Rapid interchange of control panels between machines, giving you extra flexibility on site
One Cradle for all iCON excavate and iCON grade panels
Easy removal of core components for overnight security
Contact and cable free connection to control/display panels
Safety shut down feature protects system and data
Cradle stores machine specific settings such as hydraulic tuning
Unique patented Snap on/Snap off capability
System applications
Depth
Commonly used for bases, foundations, etc.
Grading Work
Set the right depth and the desired tilt in one direction.
Slope
Set the desired slope for the embankment.
Laser Reference
Gives possibility to use rotating laser as a reference.
Pipe Laying
Set the desired depth and slope of the pipe trenches.
Gradient
The system can handle both pitch and roll.
Underwater Work
The bucket motion is shown in the graphical display.
Roll
Sensors record and compensate for the machine tilt.
Pitch
Sensors record and compensate for the machine tilt.
Compass
The system uses a compass to establish the direction of the tilt.
Height Alert
An audible signal warns the operator if the defined limit is exceeded. useful around bridges and overhead lines.
| | |
| --- | --- |
| SKU | Leica iCON iXE2 - 2D System |
| Brand | Leica Geosystems |
We will normally send your order the next working day for stock items or the same day if we receive your order before 2pm.
We despatch orders Monday to Friday and our standard delivery days are Monday to Friday although we can arrange a Saturday morning delivery if requested.
We will confirm the despatch of a web order by email.
Delivery Costs
Royal Mail second class signed for delivery £4.20 (subject to size and weight)
DPD Delivery 1-3 days £15.00
Saturday Delivery (orders must be placed before 12:00noon on Friday) £25.00
FREE orders over £200 exc. VAT
Collection from Alpha House FREE
*UK Mainland excludes Northern Ireland, Scottish Highlands, Offshore Islands and the Channel Islands.
Delivery charges to the above areas are subject to the weight and volume of products purchased. For Prices please call or email sales@sccssurvey.co.uk
Deliveries outside the UK
Unlike many UK based retail websites we aim to provide our export customers with the same standard of service as our UK customers.
It is possible to order goods for delivery to most countries worldwide, however, due to the wide range and size of our products it is impossible to state these costs online. Please either email us with your order and we will get back to you immediately with delivery costs or buy the goods online and we will call you to arrange any additional payment.
Product Availability
We make every effort to keep all our products in stock. **If an item is out of stock we will contact you immediately, inform you when it will be in stock and then get hold of it as quickly as possible. When we receive the item we will send it to you by next-day delivery.
If an item is not available at the time of purchase, we will inform you and advise of the estimated delivery date. You will be given the option to cancel the order or wait for the goods.
Export and International Shipping
From our UK headquarters, we export orders of all sizes to many countries across Europe and worldwide, particularly the US and the Middle East.
Export services:
We offer a comprehensive and efficient export service including:
Packaging and transportation worldwide
Insurance where required
Customs documentation
For more information please do contact our export department: export@sccssurvey.co.uk
Returns
We hope you will be pleased with your purchase. Should you wish to return anything to us we will be happy to refund or exchange any goods returned to us unused, undamaged and fully resaleable within 10 working days of receipt by the customer. The cost of returning any goods other than faulty goods is paid by the customer.
The customer is liable for any goods returned to us that arrive damaged due to poor packing on the customers part.
If goods are returned to us after 10 working days or not in a fully resaleable condition, we reserve the right to refuse a refund or to deduct a 25% re-stocking charge.
Please keep your proof of postage from the Post Office until we have confirmed that we have received your returned items.
Refunds will be made to debit/ credit cards within 5 working days of receiving the returned goods. There is no refunds on software once payment has been received.
Cancellations and Changes
Please contact our sales team on 01480 404888 if you wish to change or cancel an order.
VAT Invoice
We will send out a VAT invoice with your goods.