Description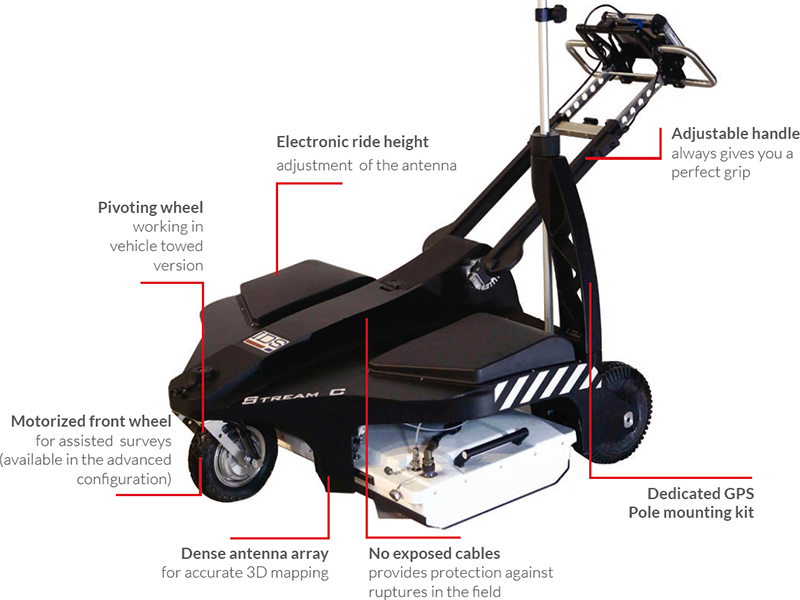 STREAM C BENEFITS
High Productivity: surveys only need to be performed in one direction to ensure optimal detection for both longitudinal and transversal pipes.
No advanced training needed: the system automatically detects and locates the position of pipes in real time and displays them on screen.
Reduced user fatigue: thanks to electronic ride height adjustment and a motor assisted drive wheel.
Facilitates large surveys: the system can be towed manually or with a small vehicle, increasing the acquisition speed (up to 6 km/h).

STREAM C FEATURES
Massive array of 34 antennas in two polarizations: this enables an accurate 3D reconstruction of the underground utility network to be created in a single scan.
Automatic Pipe Detection (APD): real-time automatic detection of buried pipes and cables
Compact size: Stream C's small dimensions enable it to survey areas inaccessible to larger array systems while maintaining the same accuracy.
Robust construction: built to the highest standards and with hardwearing materials so that it can be used in harsh, demanding environments.
3D radar tomography: real-time tomography on a GPS or total station assisted cartographic background. • Professional subsurface survey: pipes, cables and buried objects can be automatically transferred to CAD and GIS formats allowing a complete subsurface GIS based digital map to be quickly produced.
Additional Information
| | |
| --- | --- |
| SKU | StreamC |
| Package Includes | N/A |
| Brand | SCCS |
Downloads